UniBet Pros & Cons
Pros
Live betting options
Large selection of sports
Cons
Bonuses differ depending on the state
UniBet Sportsbook Review: What You Need to Know
UniBet has been around the block for a little bit. Going back to launching in the UK in 1997, the sportsbook has slowly trickled into the United States with a minimal footprint on the west side of the world.
It's reached millions of players around the world, so it's not like UniBet is just roaming the sportsbook landscape without a purpose or a vision. Ultimately, UniBet just lacks in the overall aesthetics among the world's competitors and they are lacking compared to books that have already been established in the U.S. markets.
What we'll find here with UniBet is there are some good things, but if you're trying to stack what it brings to the table to the other competitors, there's still a long way to go before that potential is ultimately reached.
In what states is UniBet Sportsbook available?
UniBet is not offered in a wide variety of places in the United States and is currently only live in the following states:
What bonuses are offered through UniBet Sportsbook?
The one thing to know with UniBet is that the sign-up bonuses are more tailored toward whichever state you're playing in.
For example, new customers in Pennsylvania could potentially receive a bet credit up to $500. That would however require you to deposit the full $500 in order to get that. But any amount you deposit below that will also be returned as a free bet.
It applies to your first bet, and you'll get the money back if you lose.
In other states, Arizona offers a promo where players can bet up to $50 and receive four bets up to $200. New Jersey offers a bet credit of up to $250, while Indiana, Iowa and Virginia can get $100 in a risk-free bet.
The appeal to UniBet may depend on the state you live in. If you live in Pennsylvania for example, maybe you want to play at a smaller sportsbook that can give you a lucrative bonus, which is what UniBet can give you. But places like Arizona and Virginia? There might be better suitors for you in terms of sign-up offer.
How to register at UniBet Sportsbook
The sign-up process to play at UniBet is a simple one where you just need the basic info to get things going. Once you click on the "Register" button at the top right, you'll be required to add some basic information:
| Details | Required |
| --- | --- |
| Full name | |
| Home address | |
| Date of birth | |
| Email | |
| Phone number | |
| Create a username | |
| Strong password | |
| SSN | |
Once that's done, you'll need to answer two security questions and agree to the terms and conditions.
Where is UniBet Sportsbook legal in Canada?
UniBet is available in the province of Ontario after launching in April 2022. If there's anything UniBet has going for itself, it's the big-name appeal. Legendary goalie Martin Brodeur is the brand ambassador, and it seems apropos that New Jersey is one of the states you can play UniBet at.
Website Experience of UniBet Sportsbook
You can tell a lot about a sportsbook based on its website. We like to judge not just on how well it gets the job done, but how well it can keep the attention of the visitor with how it looks. These are the small details that go into how a website operates.
As far as when you first visit the UniBet website, it's a simple look with a green base, a white background and green trim. If you're a fan of the Green Bay Packers or Seattle SuperSonics, this is the sportsbook for you. However, it's not going to catch your attention.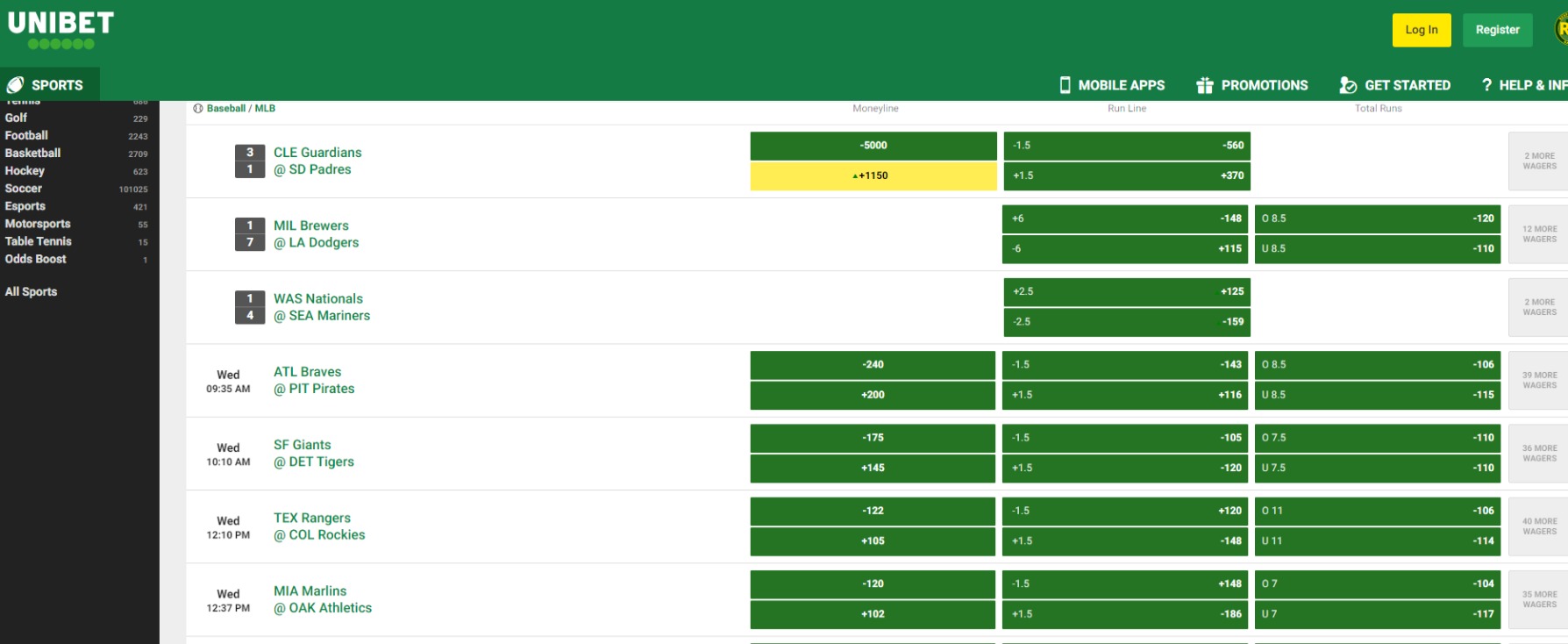 One thing UniBet does well is its live betting platform. On the home page, live betting is front and center, and clicking on a bet will lead you to an easily accessible bet slip. That's a good sign.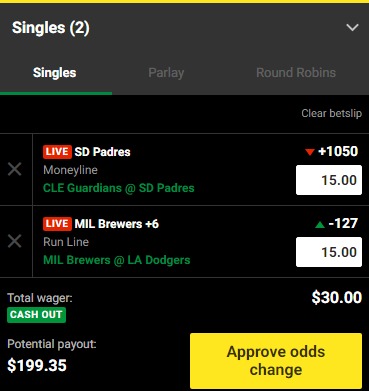 There didn't seem to be any problems using the site as far as glitches and performance goes, so for a simple app in both appearance and usage, it gets the job done. Overall, no complaints on the website.
Mobile Betting App Experience of UniBet Sportsbook
UniBet has specific apps tailored toward each state in which it is licensed. If you were expecting anything different as far as the look compared to the website, we hate to disappoint you. But if you're looking to choose between the website and the app to play at UniBet, we suggest you stick to the website.
The UniBet mobile app is probably a little more unresponsive than the ones we've seen so far. Not only does it take too much time to load the sportsbook's homepage, but we've noticed each time you click on a certain bet, crashes are more frequent.
And it's not just one state that we've experienced this issue with. Whether it's Pennsylvania or New Jersey's respective app, it has the same bugs and same problems.
As far as the look goes, it's the same as the website with the green and white mixture. One thing that goes in UniBet's favor, however, is the game density, better known as how many games you can see at one time on the screen. Generally, the more games, the better the density. You can see as many as five games when you're on the home page.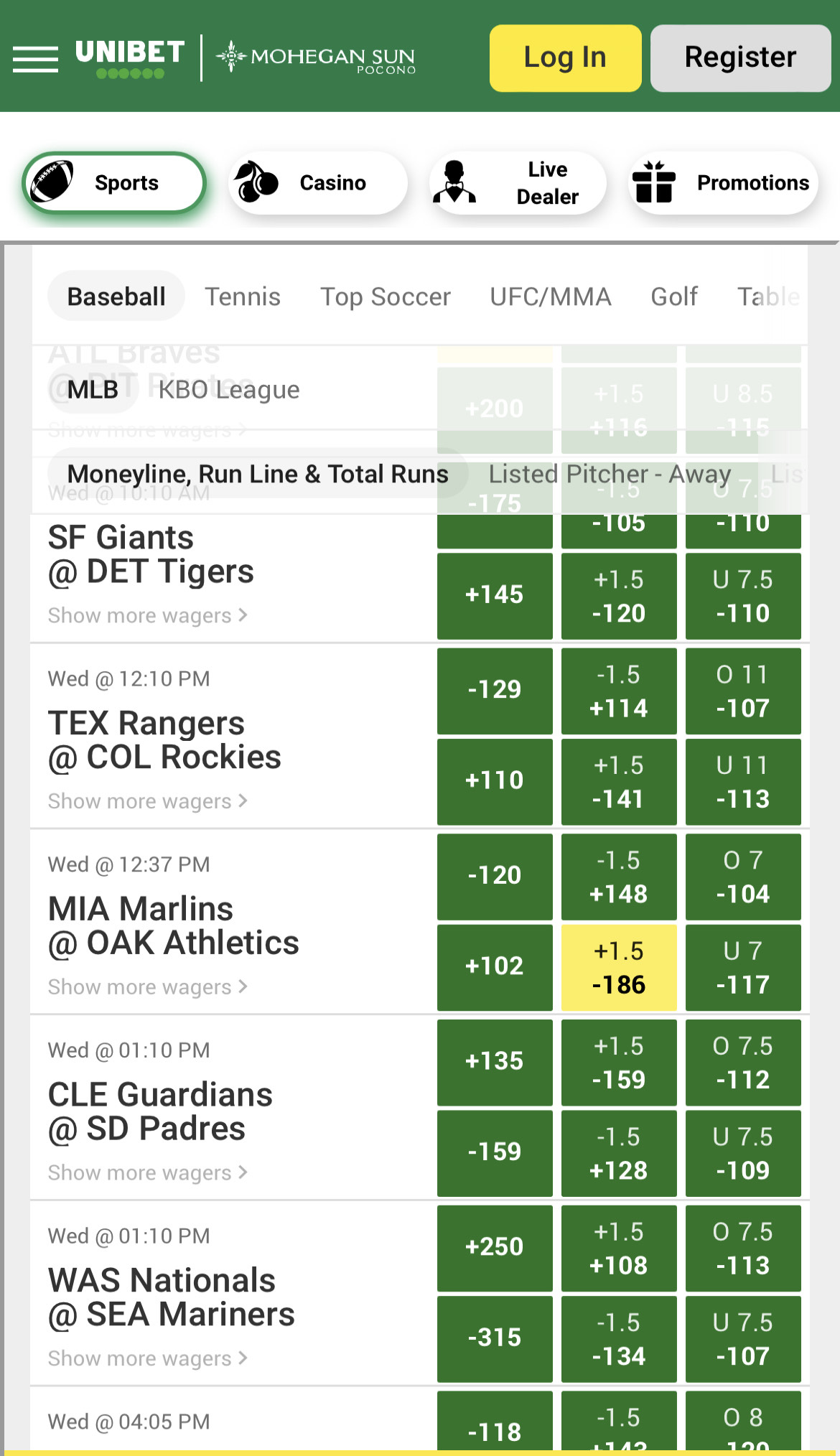 The bet slip is the same as the website and gives you the option to choose between parlay or straight-up bets.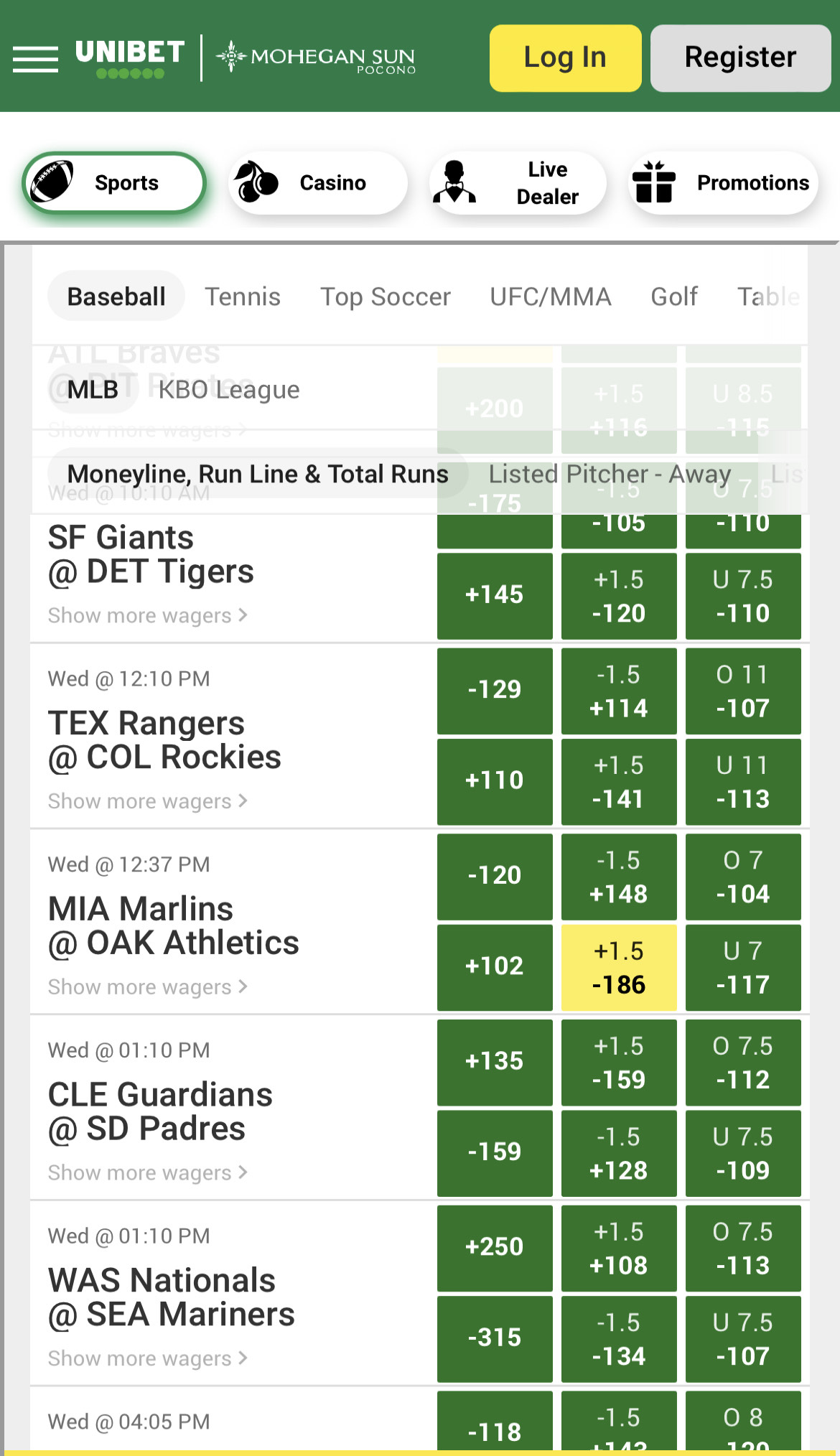 It can be a good thing to keep things uniform, but we can't get over how unresponsive the app was at times. In order to be taken seriously with the competition, this has to be improved upon greatly. That's where it lags the most right now.
Live Betting Options Offered by UniBet Sportsbook
As we touched on with the website and app, the live betting functions at UniBet are very strong. You're able to easily make live wagers on totals and moneyline, for example, and sometimes the numbers can get enticing. The San Diego Padres at +1200 when down 3-2 at home in the seventh inning is not a bad bet to put $20 on.
The live betting menu is second-to-none, and that's one of the ways UniBet has excelled in its short time in the United States. Thanks to the number of sports that are available, there are a plethora of options to bet on at UniBet.
Banking Options at UniBet Sportsbook
Thanks to the mix of online sportsbooks and physical locations, there are a number of quality banking ways with UniBet to ensure you have options to play.
UniBet Deposits
The minimum deposit required is $10 at UniBet Sportsbook.
Unibet Withdrawals
Likewise the minimal withdrawal amount at UniBet is $10.
UniBet Payment Methods
| | | |
| --- | --- | --- |
| Credit Cards | - | UniBet does, in fact, accept Visa and Mastercard. |
| Debit Cards | - | If you have a different debit card that isn't the likes of Visa and Mastercard, you can use that, as well. |
| Bank Transfer (ACH) | - | If you're not comfortable using a card, UniBet allows you to transfer funds with your checking account. |
| PayPal | - | There's nothing ever wrong with the popular eWallet. You can also use that as your main source of funds to play at UniBet. |
| PayNearMe | - | You can find PayNearMe at your nearest 7-Eleven or CVS, and that's another way that you can play at UniBet. |
| Cash | - | If you are playing at the Mohegan Sun Pocono Casino in Pennsylvania or the Hard Rock Hotel Casino in Atlantic City, New Jersey, you can use the wonderful, physical money to make deposits and withdrawals to your UniBet account. |
What Sports and Leagues can I bet on with UniBet Sportsbook?
We touched on this above, but thanks to the stellar live betting, the large number of sports and leagues to bet on at UniBet gives you plenty of options to work with. For example, if you're interested, you can bet on the following:
| | | |
| --- | --- | --- |
| Aussie Rules | - | |
| Baseball | - | MLB |
| Basketball | - | NBA, NCAAB, WNBA, Int'l |
| Boxing | - | |
| Cricket | - | |
| Cycling | - | |
| Darts | - | |
| Football | - | NFL, NCAAF |
| Golf | - | PGA, LPGA |
| Handball | - | |
| Hockey | - | NHL, Int'l |
| MMA | - | UFC |
| Motorsports | - | NASCAR, F1 |
| Rugby | - | |
| Snooker | - | |
| Soccer | - | Multiple Int'l Leagues. Int'l Competition, World Cup |
| Sumo Wrestling | - | |
| Surfing | - | |
| Table Tennis | - | |
| Tennis | - | ATP, WTA, ITF |
| Volleyball | - | |
Can you bet on all NCAA Football and all NCAA Basketball teams at UniBet Sportsbook?
You absolutely can bet on college football and college basketball. However, bettors in New Jersey and Virginia can't bet on games involving schools in those states. And New Jersey residents are further prohibited from betting on any college event which takes place in New Jersey, regardless of whether a New Jersey school is a participant.
What bet types does UniBet Sportsbook offer?
UniBet does offer the traditional forms of bet types you can make. All of these are available at your disposal:
| | |
| --- | --- |
| Moneyline | |
| Spreads | |
| Totals | |
| Parlays | |
| Futures | |
| Live Betting | |
How to contact UniBet Sportsbook customer support
UniBet's customer service function, we've found, is one of the best. You can contact them 24/7 by either email, phone number or chat. The number will vary depending on the state you are located in.
Unibet Complaints
If you have any complaints about UniBet you can first take up your issue directly with UniBet, with the contact information provided on the website. Should the complaint not be resolved you can take it further by getting in touch with your state's gaming enforcement division.
---
FAQs
What's the legal betting age to play at UniBet?

For the states that you can play in, you must be 21 years old or older to play at UniBet.

Can I use UniBet out of state?

You can, as long as you are registered to gamble in that state. To do that, register for an account in the state that is legal to gamble.

Do I have to be in a legal state to withdraw funds from UniBet?

No. It's not as the same as using the app out of state where you need to be in that state. You can take the funds out of your account no matter where you are, but you just can't bet until you get back to that desired sportsbook.

How do I find the UniBet Sportsbook app at the App Store?

Type in UniBet in the search bar in the App Store or Google Play Store, find your respective state's app and you'll be good to go!
UniBet has a lot of options to get you involved in the sports betting arena. Whether you're looking to play a simple game or two on the money line, or you want to team them together in a parlay, or even wager in-game. The app is great and continues to show potential, while its design is solid and it looks good, as well.