Caesars Pros & Cons
Pros
Sleek, dark layout
Easy on the eyes
Durable home page with top events readily available
Easy to use bet slips
Cons
App sometimes unresponsive
Not as fast as it should be
Caesars Sportsbook Review: What You Need to Know
Caesars has become a global entity. Think about the branding across the world and how it applies to the Caesars brand. Of course, there's Caesars Palace in Las Vegas, the iconic hotel and casino that resides in the heart of the Strip. It's expanded now to branding the Superdome in New Orleans, to seeing casinos in every legal market that you can find. So, of course, this is a sportsbook that is going to have the eyes of many bettors across the United States.
Now, look at how far it's come. With the evolution of sports betting, Caesars has without question gotten into the sportsbook app game with a fast-growing sportsbook with legal sports betting in the likes of Arizona, Illinois, Michigan, Ontario and New York, just to name a few.
It was just a year ago when Caesars Entertainment wrapped up a $4 billion takeover of the William Hill brand, rebranding the William Hill app as Caesars Sportsbook. In addition, Caesars sold all non-US William Hill assets to 888 Holdings for a profit of $2.35 billion. That money will go toward large bonuses for new customers.
It's not just the fact that Caesars has continued to boom in the sportsbook world. It's what they've been able to build on. Caesars Sportsbook just recently added Caesars Sportsbook New York in January 2022, and Maryland will soon be joining the Caesars Sportsbook family at a later date.
But that's not all. Caesars Sportsbook just launched a retail location inside Chase Field, the home of the Arizona Diamondbacks. Never before have we seen the likes of a giant retail location, at a ballpark, where fans can act on sports betting at a baseball stadium. Things are brewing for Caesars, and it's exciting to see.
In what states is Caesars Sportsbook available?
Excellent question. We've highlighted some of the states already that Caesars Sportsbook is available in. But you're probably wondering what other states Caesars Sportsbook is available in if you're not in the few we mentioned. Here are all the states you can try the Caesars Sportsbook mobile app in:
What bonuses are offered through Caesars Sportsbook?
Caesars Sportsbook offers numerous bonuses throughout their mobile app. The one you'll notice right away is the Caesars Sportsbook sign-up bonus.
Caesars Sportsbook Sign-Up Bonus
Upon signing up through the Caesars Sportsbook mobile app, you'll be offered a potential bet credit up to $1,250. You can get this through whichever state you are in that has Caesars Sportsbook available. How does it work? Place your first wager and should it lose you'll get 100% of your stake back as a bet credit up to $1,250. It's for new account holders only and it must be played within 30 days of the account's creation.
Caesars Sportsbook Promo Code
Sign up to Caesars using the code BIGALFULL to get $1,250 as a bet credit should your first real money wager lose
Caesars Sportsbook Rewards
There is also the Caesars Rewards Program for bettors. It's not a VIP program, per se, but the credits given are based on how much you wager. Those credits can go toward free hotel stays, which if you're out and about around the country, that's not really a bad way to go. But ultimately, that's all they're good for.
Caesars Sportsbook Refer a Friend
There's also incentives to getting your friends involved through Caesars. The book has a refer-a-friend program where if you get a friend to sign up, you can get a $100 bet credit in select states.
How to register at Caesars Sportsbook
You only need a few things to get going with your registration at Caesars Sportsbook. It's very simple. It starts with downloading the mobile app. Whether you're on the Android Marketplace or the App Store, you can find the Caesars Sportsbook mobile app and download it to your collection of apps.
Once downloaded, you have to fill out some simple information. I promise you that this information is not difficult. You're not downloading the Caesars Sportsbook mobile app and filling out a questionnaire as if you're trying to get a new car. Here's what you need:
| Details | Required |
| --- | --- |
| Full name | |
| Birth date | |
| Address | |
| Social Security number | |
| Phone number | |
| Email Address | |
If you can't provide those things for one reason or another, you won't be able to explore the wonderful happenings on the Caesars Sportsbook mobile app.
Where are Caesars Sportsbooks legal in Canada?
The province of Ontario, the largest in Canada, opened Caesars Sportsbook Ontario in April 2022 and was the first Canadian province to have a fully-regulated sports betting market in Canada. One way to globalize sports betting is by doing just that. If you're in Canada, you also can take advantage of the Caesars Sportsbook mobile app.
Website Experience of Caesars Sportsbook
The first thing you notice when checking out both the Caesars Sportsbook website and mobile app is it's the same layout with easily accessible features. The home screen consists of four tabs at the bottom: Home, Promos, Bets, and a search function called All Sports.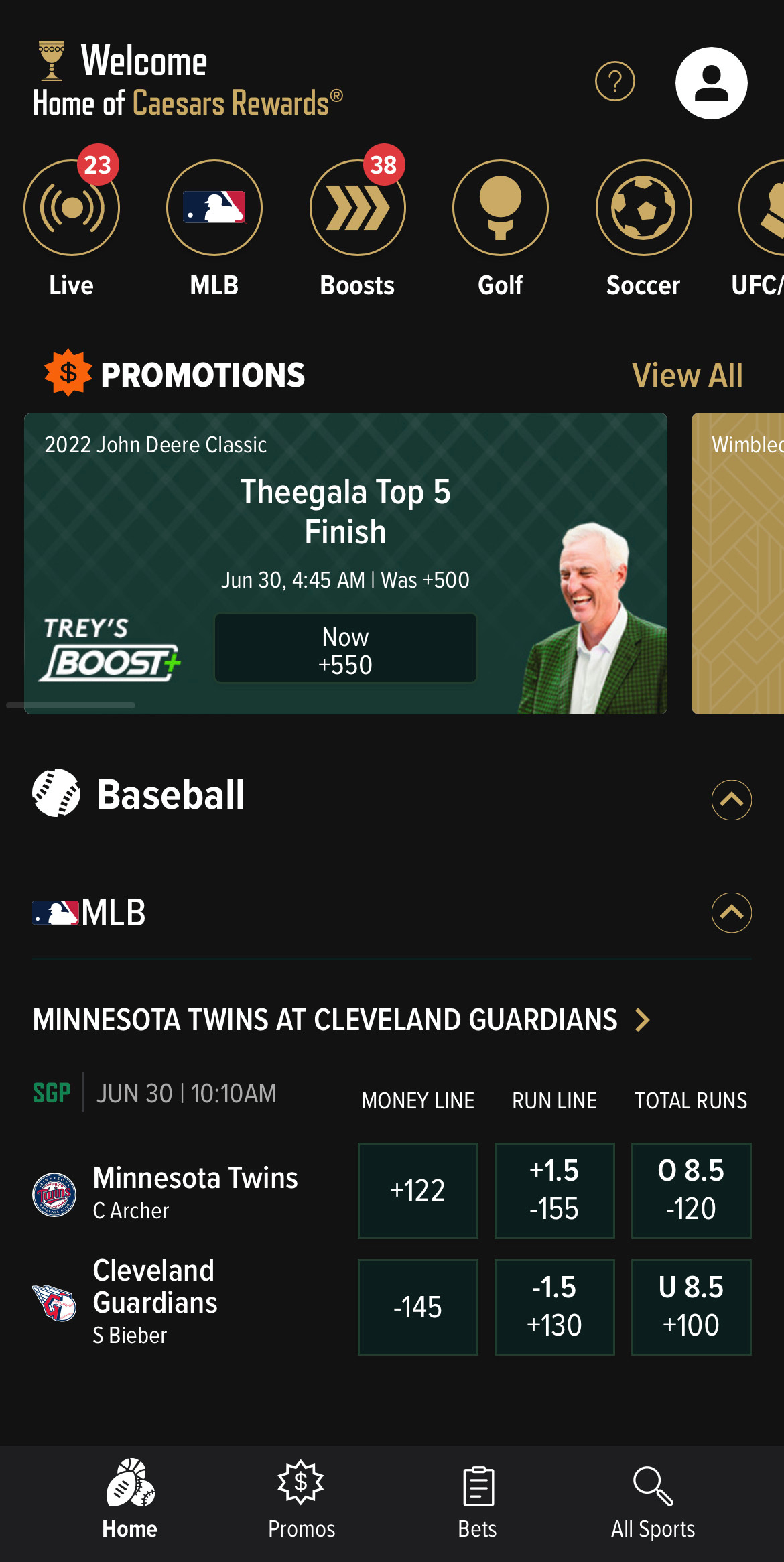 Each is very easy to navigate through and Caesars keeps it simple. It's not a complex layout. And with the ability to bet games on the home page and transition between Home and Bets, you're always staying up-to-date and on-task with your betting needs.
Caesars Sportsbook App: Mobile Betting Experience
As mentioned above, the app has the same type of features as the website, and it looks very good on an app-sized platform. Caesars didn't try to re-invent the wheel between screen sizes, and that's something for which it should absolutely be commended.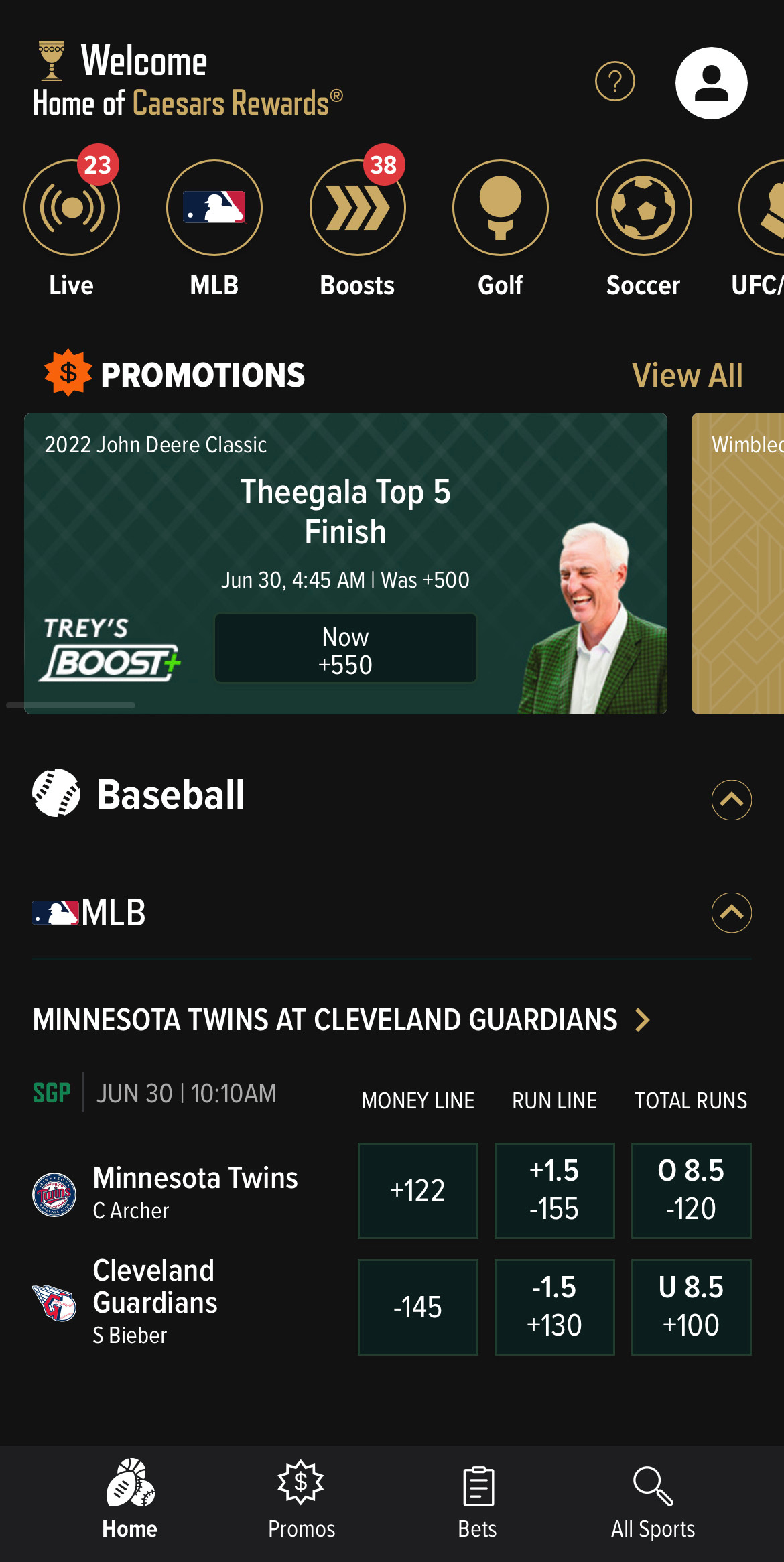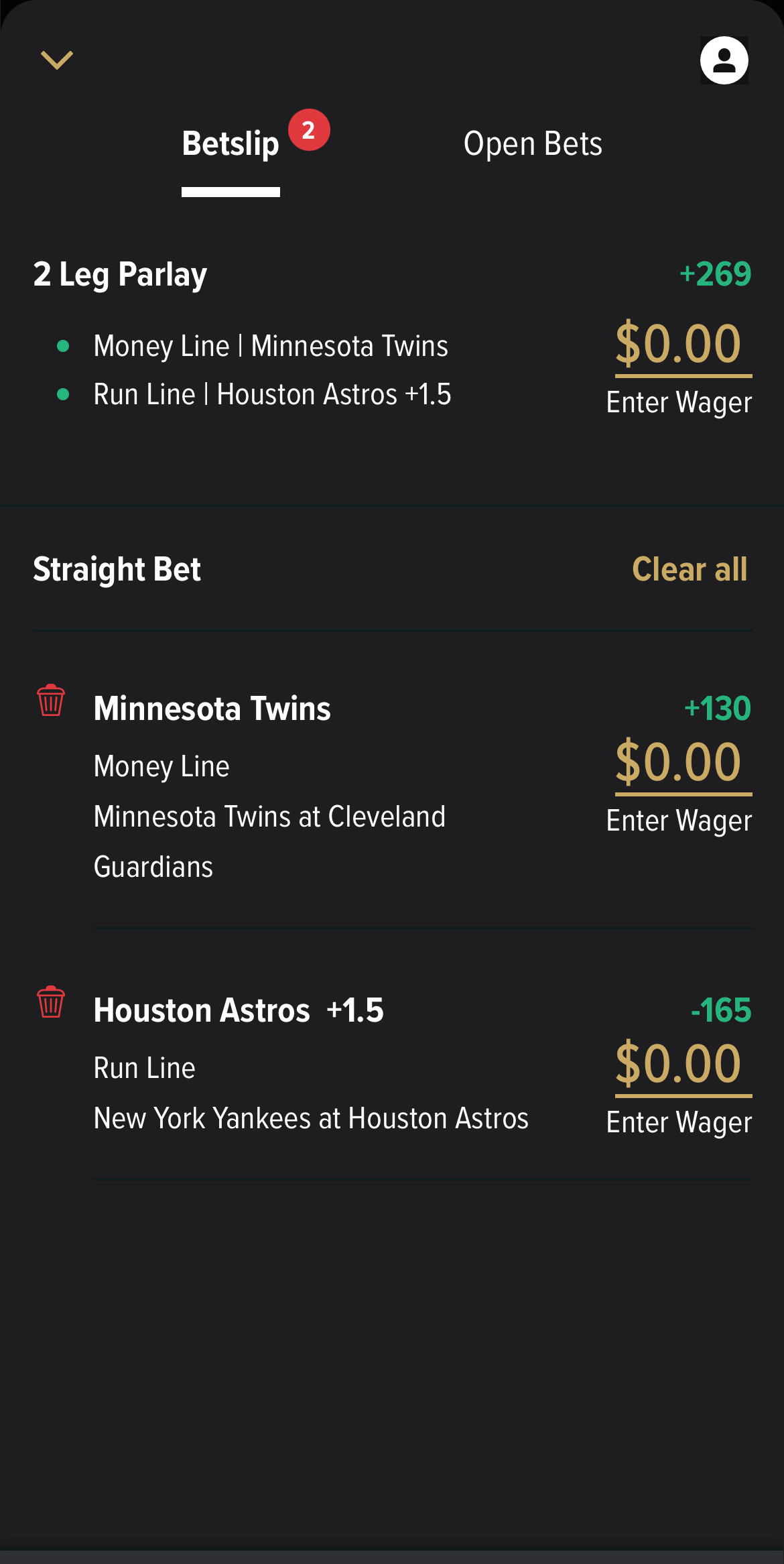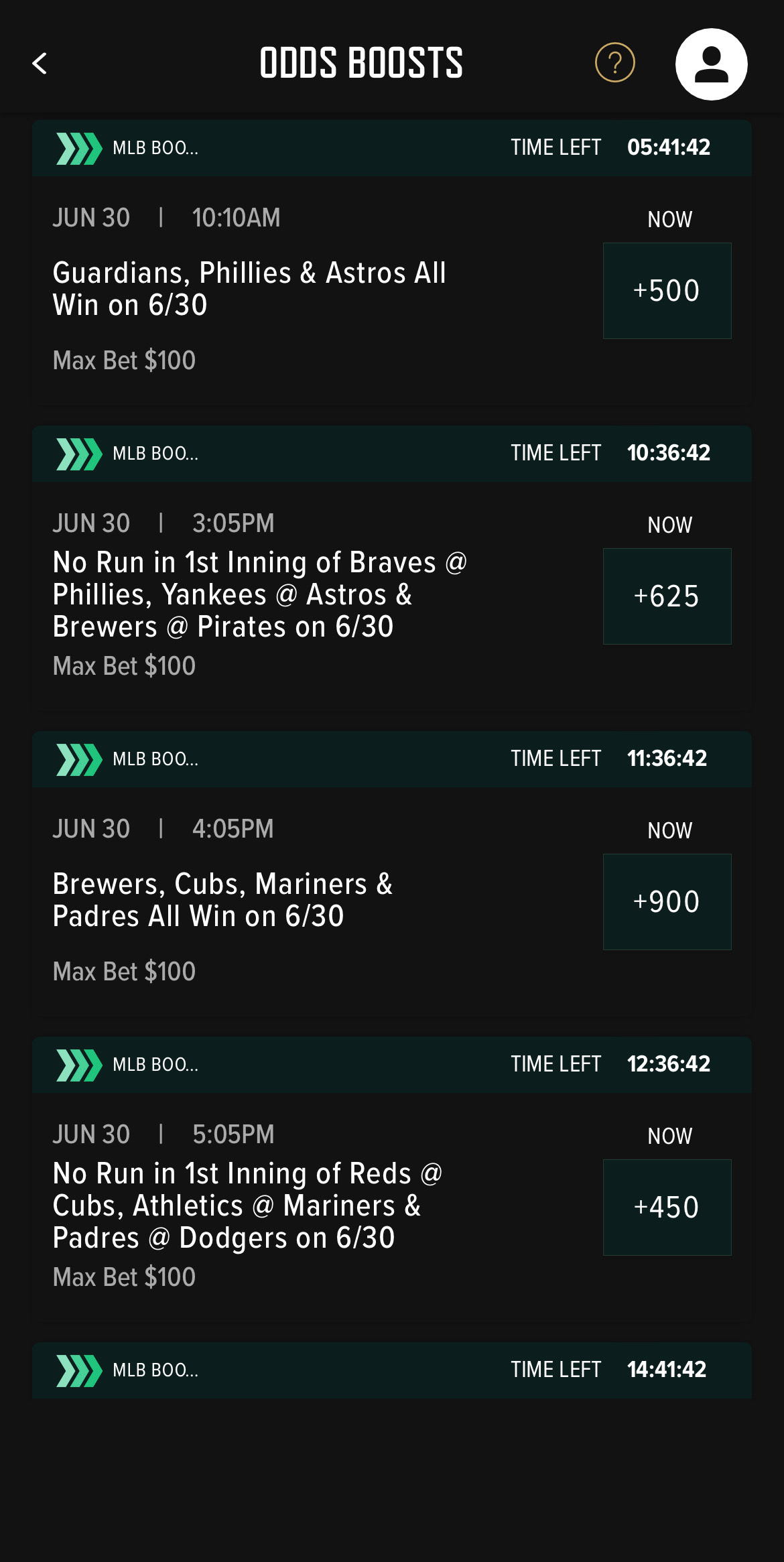 One key factor to consider when evaluating an App is how much information is displayed on the screen. Generally speaking, the more information, the better, provided it's still easy to read. When developers build an App, they'll be confronted with many choices, including the type size of the letters, and spacing between lines. The upshot is that when you're looking at, for example, the day's NFL odds, you might be able to view 5 games at one time on one sportbook's App, but perhaps just 3.5 games on another. In this respect, the App which can display 5 games has better "Game Density" and will provide its users with a better experience. In this regard, Caesars could use an improvement.
On the other hand, Caesars bet slip menu is great. Once you click on the particular odds of a game on the home page, the bet slip immediately shows up and you can place the desired bet from there.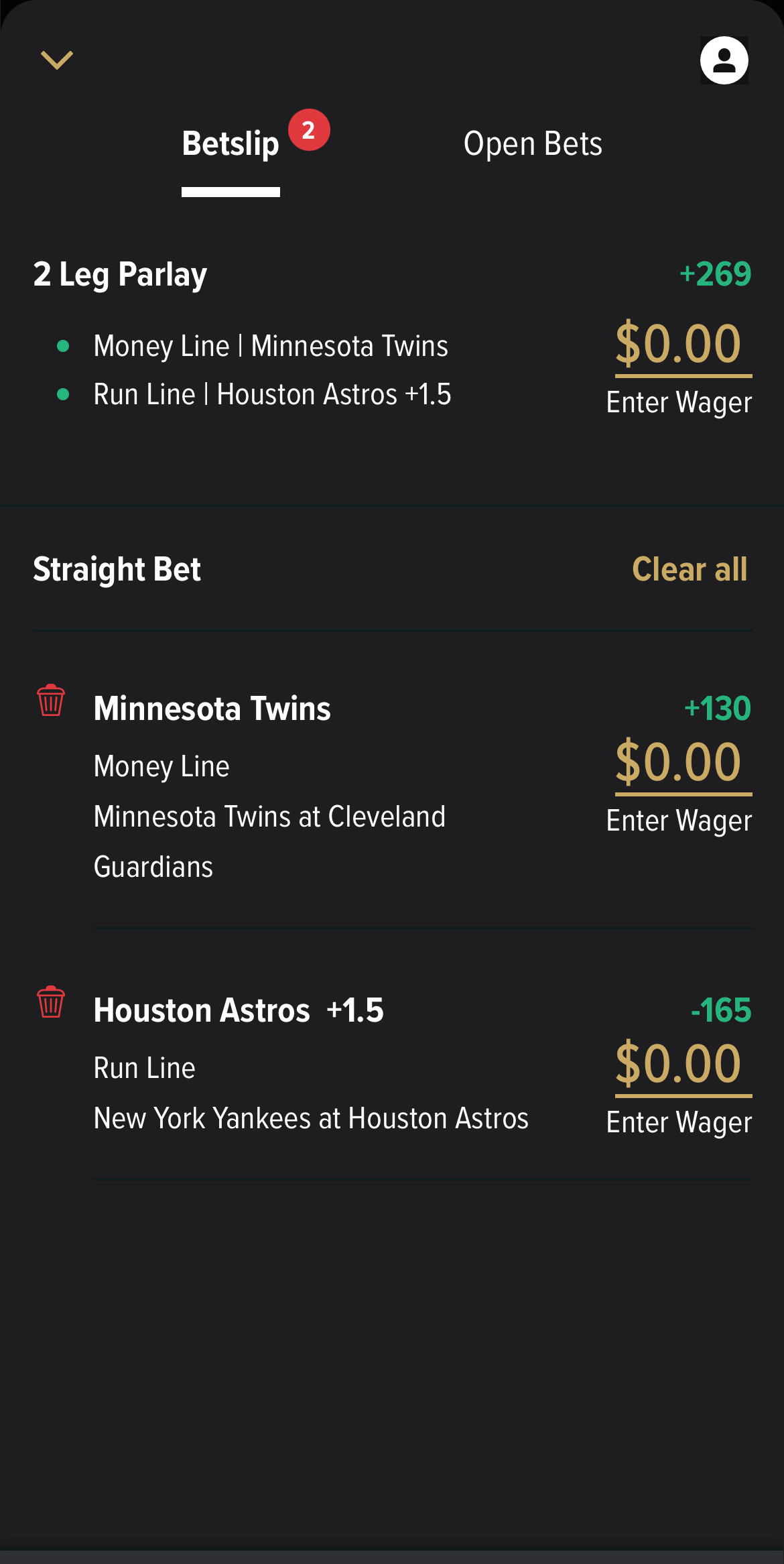 But in the experience of using the Caesars Sportsbook mobile app, there were times where it felt unresponsive when trying to place multiple bets. The screen would lag from time to time, and I couldn't switch between the options at the bottom. There were a lot of force closures on this backend, but overall, the app still looks and feels good. Caesars just needs to address some bugs.
Live Betting Options Offered by Caesars Sportsbook
The one thing Caesars does well with its app is the live-betting options. Over the last few years, live betting has become one of the fastest-growing and most popular segments of the sports betting market. And, why not? It's fast-paced, the odds constantly change, and you can even find some in-game odds at +5000 (or higher) when a team finds itself down big, early. You'll find the tab dedicated to in-game bets at the Caesars Sportsbook near the top left corner of the app. Think of it like downloading the ESPN app, or The Score app. There's a live-game tracker, player stats are utilized, and it even has play-by-play functions. With all of these elements in place, and the ability to easily place an in-game bet, the real-time sports betting experience is exciting and seamless. Caesars gets high marks, here.
Cash-out Options at Caesars Sportsbook
Caesars Sportsbook does offer its players the opportunity to cash out a bet before the event has finished. So, whether a game has great (or less-than-great) chance to win, a bettor may decide to take a percentage of the potential winnings as a cash-out. Of course, the percentage offered will depend greatly on the wager's then-current chances of winning. But it's a very convenient option to have.
Banking options at Caesars Sportsbook
The world we currently live in relies on technology and convenience, and bet365 is no exception given the ways to put money in your account. With the minimum deposit of $20 through these various ways, you can get started playing right away. Those banking options and payment methods include:
Caesars Sportsbook Deposits
First thing you need to know is the minimum deposit going at Caesars is $20 and processes at an instant rate. It doesn't matter if you use a credit or debit card, your checking account or even PayPal. Once you submit it to the app, it's easily available to you.
Caesars Sportsbook Withdrawals
As for cashing out, that might not be as instant via electronic payouts. Through a bank transfer, it can take five business days. With PayPal, it's three days. If you use cash at the physical location, of course, it's instant and takes seconds.
Caesars Sportsbook Payment methods
Other payout options at Caesars includes:
| | | |
| --- | --- | --- |
| Credit or debit card | - | The good news is bet365 does accept the likes of Visa, Mastercard and Maestro (another form of Mastercard). |
| ACH Transfer | - | You can transfer directly from your checking account. |
| PayNearMe | - | You can find a PayNearMe at your local 7-Eleven, Family Dollar or CVS location. There's a PayNearMe code you can enter after making the cash deposit, and you'll be good to go. |
| PayPal | - | If you've dealt with money in some capacity, you know what PayPal is. The popular online wallet allows bettors a secure way to send money without providing their banking information. |
| Skrill | - | Similar to PayPal, it's another secure payment system in which your bank account info isn't used. |
| Inside the casino | - | Cash is, indeed, an option. You can make deposits and withdrawals, but of course, it's only available at the Hard Rock Hotel & Casino in Atlantic City, New Jersey. |
Betting Limits at Caesars Sportsbook
Just to have fun with this, if you go on the Caesars app, you'll be able to place bets for as low as $1 and as high as $10 million. If you go any higher, you'll be told that your betting limit at Caesars Sportsbook has been reached.
Can you imagine putting together a $10 million bet on a sportsbook app? I really don't want to think of how agonizingly painful that is to put $10 million on the Yankees on the run line.
Does Caesars Sportsbook have Same Game Parlays?
Yes it does. For those who don't know, a same-game parlay is betting on multiple wagers that each relate to an event in a single game. And each wager must not lose for the parlay to win.. For example, you can bet on Luka Doncic scoring 25 points, JaVale McGee to have three blocks, and the Dallas Mavericks to make more than 10.5 3-pointers.
Another example would be getting as high as +525 if the Chicago Cubs defeat the Boston Red Sox and Christopher Morel gets over 1.5 hits. Given the Cubs would be dogs at +118, that's a decent number.
These types of bets give bettors the opportunity to win more money, and also add to the excitement/intrigue of watching a single game. If you're looking for more than the traditional moneyline/point spread bets, Caesars gives you that option.
What Sports and Leagues Can I bet on with Caesars Sportsbook?
Trust me when I say there's no shortage on sports and leagues that you can get on at Caesars. There are the common ones, such as basketball and football. But it can go all the way to the likes of rugby and table tennis. No matter what you're in for, you can bet on it.
| | | |
| --- | --- | --- |
| Basketball | - | NBA, WNBA, NCAAB |
| Football | - | NFL, NCAAF, CFL, USFL |
| Hockey | - | NHL, KHL |
| Baseball | - | MLB |
| Soccer | - | Premier League, Bundesliga, La Liga, Serie A, World Cup |
| Golf | - | PGA Tour (LIV Golf has not been confirmed yet) |
| Mixed Martial Arts (MMA) | - | UFC |
| Horse Racing | - | |
| Rugby League | - | |
| Tennis | - | |
What bet types does Caesars Sportsbook offer?
It's not just the wide range of sports you can get involved with when it comes to Caesars. There's also a wide-range of bets you can place via the app or website. Some of them include:
| | |
| --- | --- |
| Spreads | |
| Moneyline bets | |
| Over/under bets | |
| Prop bets | |
| Futures bets | |
| Parlays | |
| Teasers | |
| In-play betting | |
There's also Odds Boosts (and Super Boosts) available, where books can increase the payout on the moneyline or point spread. The operators may offer these for prop bets, as well. These don't happen often, but in the event of a big game or a major event, it's a higher upside of a chance. But in connection with the enhanced odds, the sportsbook may lower the maximum bet size. Caesars has about 100 boosts on some days. You may wonder, what's the difference between an Odds Boost and a Super Boost. Although both boosts will give you better odds than the current market price, with a Super Boost, your expected return will actually be positive (that is, you'll have an advantage over the house). Here are examples of both an Odds Boost and a Super Boost. Let's say Caesars has the odds on a Michigan/Ohio State NCAA football game at -110 for each team. It might reduce the juice, and make the odds -105 for Michigan, while keeping the odds at -110 for Ohio State. That's an example of an odds boost for Michigan, but note that the sportsbook still has the odds in its favor, even though the juice is reduced. But with a Super Boost, the sportsbook might change the odds on one team from -110 to +120, and thus give its bettors the opportunity to have +EV (positive expected value).
How do the Odds at Caesars Sportsbook compare to others in terms of value?
One of the most important criteria when selecting a sportsbook would be the relative value conferred by its odds. The standard odds at most sportsbooks would be -110 pricing. That is, a bettor would have to risk $110 to win $100. The additional $10 given to the house on a lost wager is equivalent to a tax, and constitutes the house edge. Sportsbooks, though, can adjust the odds, based on numerous factors, such as how much money they're getting on one side. So, for example, you might see an NFL football game where the Dallas Cowboys are favored by 4 points against the Los Angeles Rams, with the odds at -116 for Dallas, and -104 for Los Angeles. But even though the odds have shifted, what's important is that the value is actually the same, as 116 and 104 equals 220 (as does 110 and 110). But this isn't always the case. Indeed, a sportsbook might make the odds -118 on one side, and -106 on the other. Then, the house has increased its edge above a standard -110/-110 proposition, as 118 and 106 equals 224, not 220. The good news is that Caesars' pricing is some of the best compared to other books. Based on our research, Caesars rates especially strong in football and baseball pricing, but less competitive in the NBA. Overall, however, it is excellent.
Can you bet on all NCAA Football and all NCAA Basketball teams at Caesars Sportsbook?
Yes you can, but it comes with a caveat if you're in New Jersey, for example. State law dictates that residents in The Garden State are not allowed to bet on games involving college teams that reside in New Jersey or events that take place in the state, as well. So, for events that include the Rutgers Scarlet Knights and Seton Hall Pirates, those won't be allowed to bet wagered on in the state of New Jersey.
But do not fret. If you're looking to bet on college sports, say in New York or Nevada, you will get that chance to bet on NCAA Football and NCAA Basketball.
The four states you can't bet on games involving college teams in those states are Illinois, New Jersey, New York and Virginia. Therefore, if you live in one of those states, you can't bet on these teams' games:
| | |
| --- | --- |
| Rutgers Scarlet Knights | |
| Seton Hall Pirates | |
| Syracuse Orange | |
| St. John's Red Storm | |
| Buffalo Bulls | |
| Illinois Illini | |
| DePaul Blue Demons | |
| Northwestern Wildcats | |
| Virginia Tech Hokies | |
| Virginia Cavaliers | |
| VCU Rams | |
How to contact Caesars Sportsbook customer support
No one wants to deal with any shenanigans when it comes to their money. They either want to keep it, or have it in their account to wager. Caesars, from using the app, spares no expense in making sure customers are taken care of. There are three buttons at the bottom of the home page on the mobile app: a live chat feature that's available 24/7, a 'Contact Us' button, and a simple 'help.' All of them work and all are valuable resources. Caesars did a good job here.
---
FAQs
What's the legal betting age to bet on sports at Caesars Sportsbook? – Much like any other gambling establishment and drinking, you must be 21 in order to play at Caesars Sportsbook.

Can I use Caesars Sportsbook out of state? – You can, as long as you are registered to gamble in that state. To do that, register for an account in the state that is legal to gamble. If you want to bet within New York, you have to be within state lines.

Can I use Caesars Sportsbook out of state? – You can, as long as you are registered to gamble in that state. To do that, register for an account in the state that is legal to gamble. If you want to bet within New York, you have to be within state lines.

Who stars in the Caesars Sportsbook commercial? -- Emperor Caesar is played by American actor, comedian, and writer J.B. Smoove. Smoove has been featured on Def Comedy Jam, and Saturday Night Live (as both a writer and actor), but is perhaps best known for playing Leon on the hit HBO series Curb Your Enthusiasm.

How do I get my bet credit at Caesars Sportsbook? -- Enter the promo code upon signing up.

How do I find the Caesars Sportsbook app at the App Store? -- Type in 'Caesars Sportsbook' in the search bar in the App Store!

Final thoughts on Caesars Sportsbook Mobile Apply

Caesars has a lot of options to get you involved in the sports betting arena. Whether you're looking to play a simple game or two on the money line, or you want to team them together in a parlay, or even wager in-game. The app is great and continues to show potential, while its design is solid and it looks good, as well.
Caesars has a lot of options to get you involved in the sports betting arena. Whether you're looking to play a simple game or two on the money line, or you want to team them together in a parlay, or even wager in-game. The app is great and continues to show potential, while its design is solid and it looks good, as well.