FanDuel Pros & Cons
Pros
Top-tier sportsbook
Leader in daily fantasy sports
Top-notch user interface
Cons
Customer service troubles
FanDuel Sportsbook Review: What You Need to Know
When we look at the best of the best in the sportsbook game, there are normally two that come to mind. FanDuel is one of those two. Think of where it started, as a daily fantasy sports site that has evolved into a trustworthy go-to destination for sports wagering. It has become one of the top destinations in the industry, and with good reason.
It's an intriguing arms race between FanDuel and DraftKings. Much like its other competitors, FanDuel has taken its success from the world wide web and turned it into retail locations across a vast majority of legal states across the United States. On top of the many partnerships they have across the major sports leagues, they're taking full advantage of the meteoric success.
There's also the fact FanDuel has noticeably put in the work to present a sleek, functional online platform that can rival any of the competitors. The design might be the best that there is. Ever since acquired by PaddyPower in 2018, that expertise has been highly valuable in launching what we know of it today.
If you've been curious about FanDuel and have wanted to get into trying it out, this review will ensure you're ready to go and know all you need to know about the popular sportsbook.
What bonuses are offered through FanDuel Sportsbook?
When it comes to bonuses, FanDuel is straightforward. For new customers, the $150 in Bonus Bets is great offer. How does it work? First, you just need to make your first deposit of $10 or more. Then, once you place that first $5 bet, all qualifying customers will receive up to $150 in bonus bets. Those bonus bet credits will expire, however, in 14 days.
Outside of that, bonuses may vary by location. We've found that the best option to figure out what other bonuses are out there is to keep updated with those in your legal gambling state.
Keep an eye out for what else might hit your state. But with the $150 bonus bets from a $5 wager, that's a perfect way to welcome new customers.
How to register at FanDuel Sportsbook
Just like any sportsbook, the process to sign up and play at FanDuel is rather easy. All you need to get started is the following:
| Details | Required |
| --- | --- |
| Email | |
| Secure password | |
| Create a username | |
| Full legal name | |
| Date of birth | |
| Home address | |
| Last four digits of SSN | |
After you confirm your age and eligibility, you'll be ready to make a deposit and bet. Don't forget FanDuel's top bonus when you do sign up.
In what states is FanDuel Sportsbook available?
FanDuel has wasted no time in trying to establish its mark in the United States. If you're interested in playing at FanDuel, you need to be in one of these states:
Where is FanDuel Sportsbook legal in Canada?
Thanks to the passage of Bill C-218, Canada has also joined in the sportsbook realm. FanDuel has jumped at this opportunity with its launch in Spring 2022. Dale Hooper is the general manager of FanDuel Canada as of October 2021. Hooper, the former President and CEO of Cannabis Compliance Inc, turned that corporation into one of the leaders in the cannabis industry in Canada. So, his skill set is well-suited for managing FanDuel in the high-growth sports gaming space.
Website Experience of FanDuel Sportsbook
The first and most important thing to do when you go to the FanDuel website is to select what state you're from. Make sure you're registered in the state you live in before you can continue. After that, you will be prompted to complete the sign-up phase, or log in to your account. Once in, you can go straight to the sportsbook.
FanDuel's website might be one of the cleanest on the market. Not just in terms of how it looks from a visual standpoint, but it's literally tidied up very well. Ads do not dominate the homepage; there's a banner for free bets and same-game parlays at the top, and the banner is large enough, but not too large to distract you from what really matters: the games you're betting on.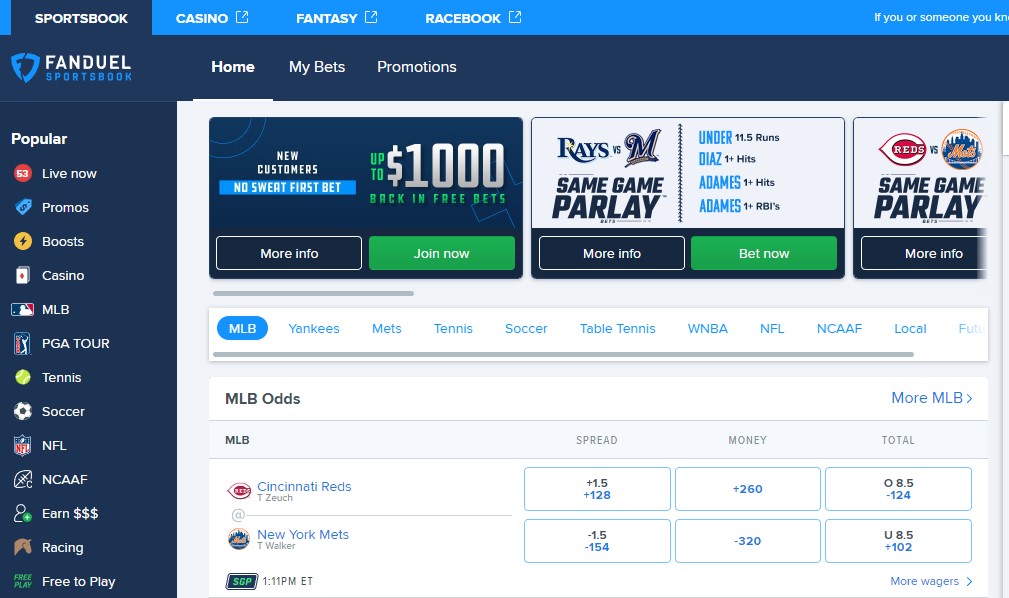 Then you get to the day's games, and there's plenty to like here. Not only are the odds and bet slip easily accessible, but FanDuel's well-designed bet slip gives you the option to bet different amounts per each game, or turn it into a parlay. Even better, its bet slip assists with the math portion, and helps you figure out how much you win based on your wager, so you can adjust accordingly. All in all, FanDuel's website is top-notch, and novice bettors will especially admire its ease of use.
You get a wide range of games to view on the home page. You can see five games on the home page when you scroll down just enough, which is a very strong feature. More of that on the mobile app side below.
There are also tabs at the top of the page for live bets and promos, which is great to know and easily accessible if needed. For the promos, FanDuel offers same-game parlays for that day's or week's games, as well as the refer-a-friend bonus where you and a friend can each get a $100 bonus.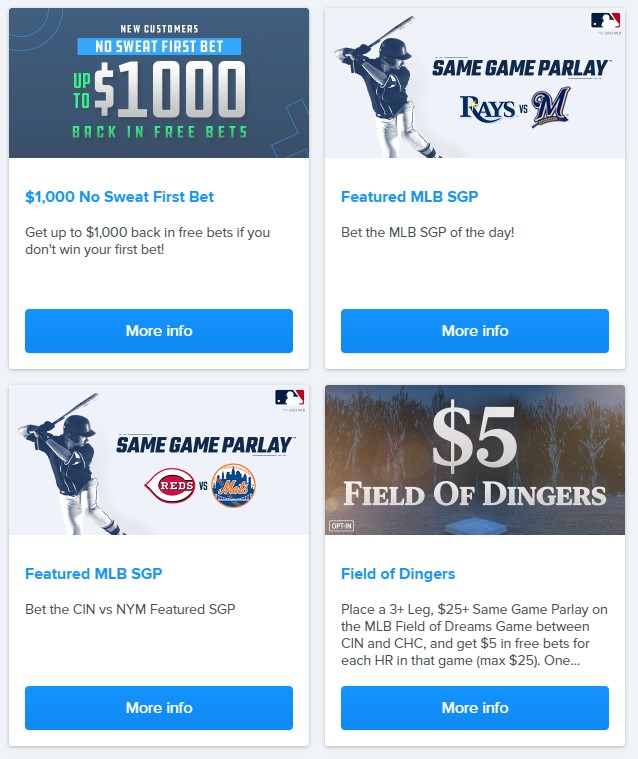 Everything is easily accessible and there are no issues when it comes to load times. FanDuel has done a great job creating a website that is easy on the eyes and easy to use for everyone, no matter your expertise in sports betting.
FanDuel App: Mobile Betting Experience
One thing that is a good sign for a sports betting company is when you can basically use the same interface for the website as the mobile app and come away with the same results. FanDuel has done that well with its mobile app.
The one thing that immediately pops about the app is how sleek it looks. The dark-based background does well for those dealing with blue light issues on their phones. Those of us who wear glasses understand the struggle too well. It's not something FanDuel probably expected to aid with, but it's a great start.
In terms of game density – which for those who don't know, is the amount of games you can see on your screen at one time – you can see five games on the app, just like you can on the website. It gives you a wide range of what to bet on without needing to scroll too much.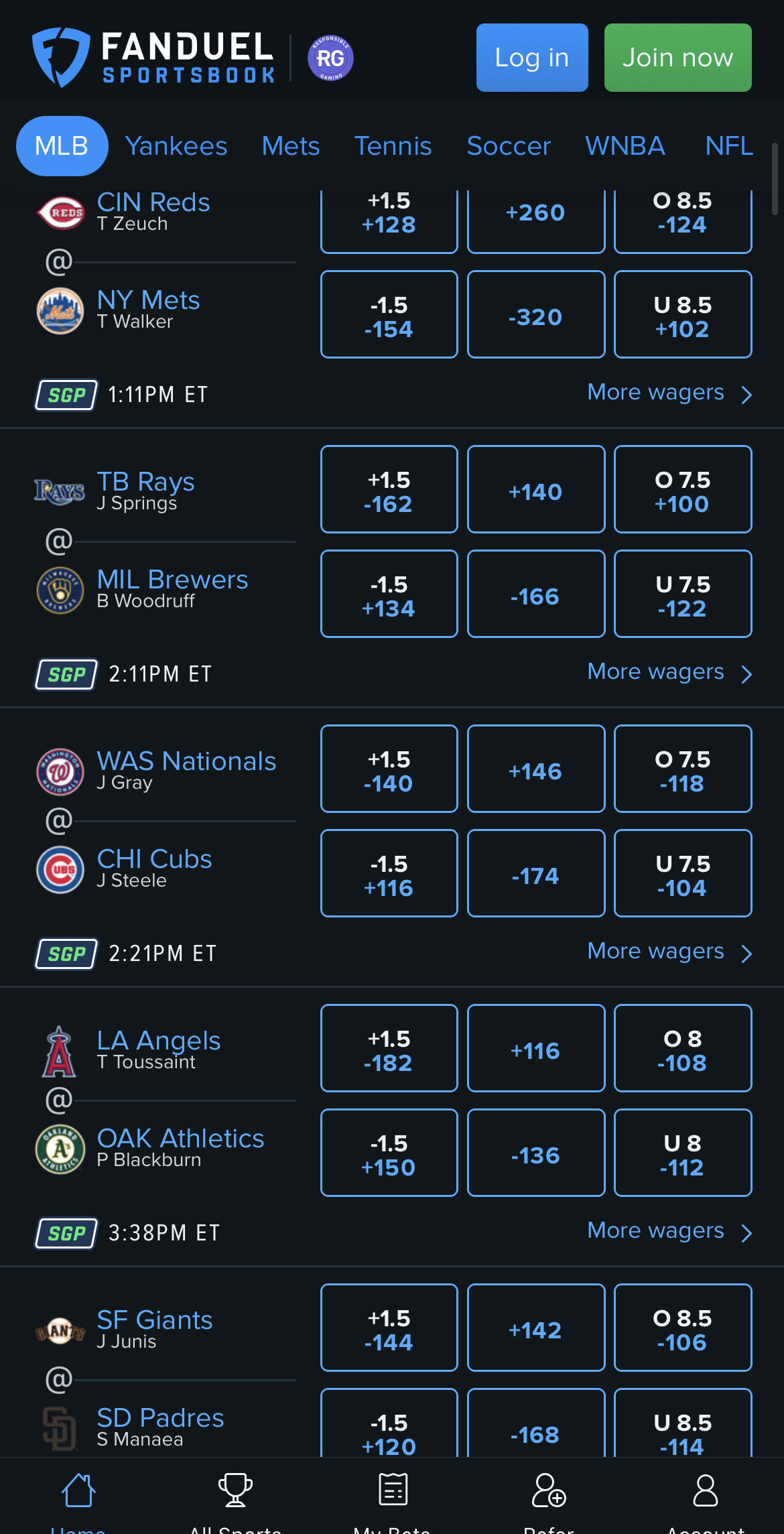 In terms of anything different, FanDuel did a great job at not reinventing the wheel with the website and app. Everything you see from the website is just as easily accessible on the app. The tabs for promos and live bets are available when you tap the All Sports button at the bottom of the home page. And it will show you every sports league that's available to bet on.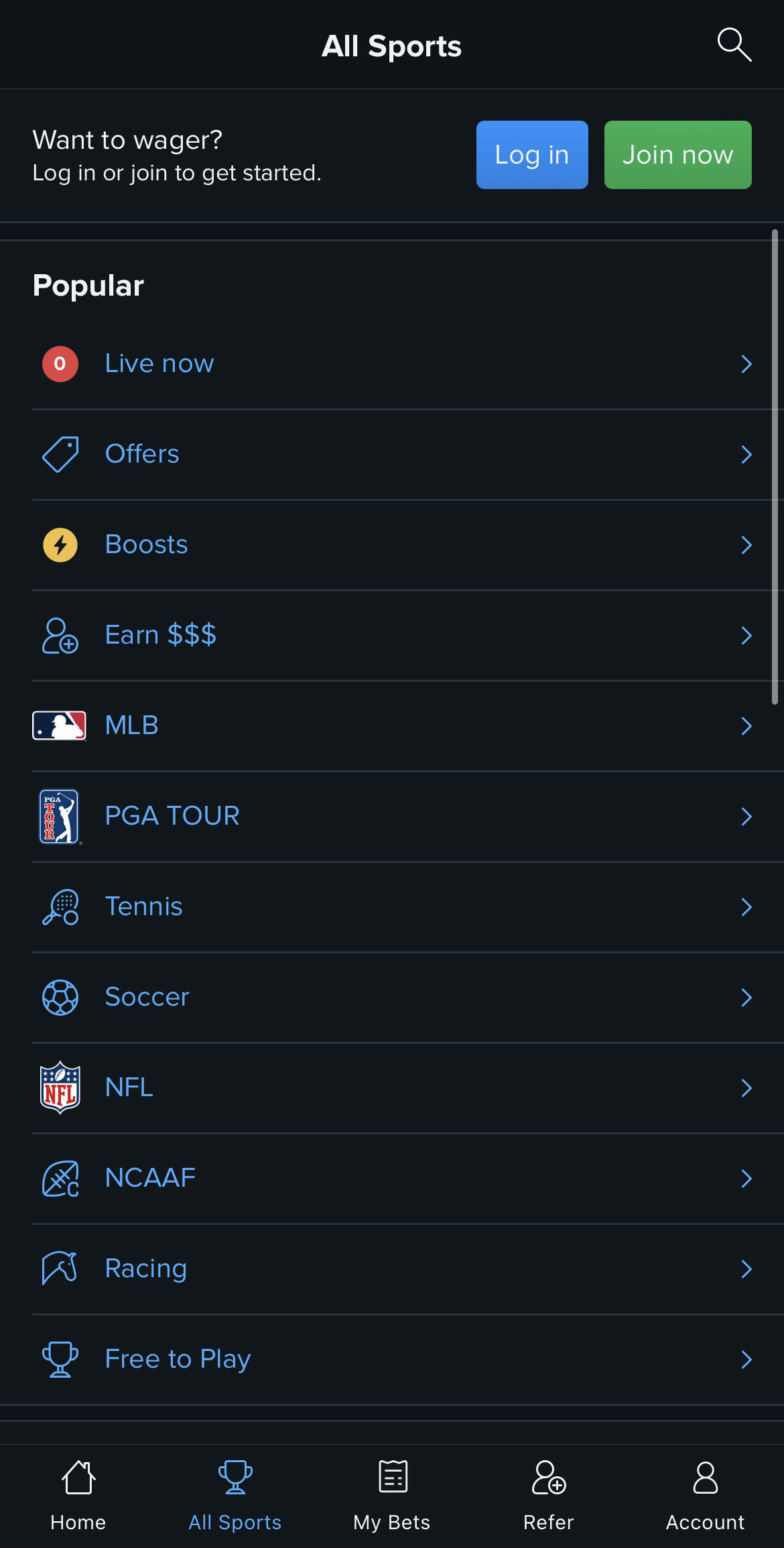 There's not much to criticize on this front. It's a well-run app that hasn't shown any glitch problems or load difficulties. FanDuel has invested its time through knowing what works. That's the first step in presenting a product to the customer, and the people at FanDuel have done that well here.
Live Betting Options Offered by FanDuel Sportsbook
This is one of FanDuel's top features as it prominently displays the live betting options. The live betting tab takes you to every game going on with odds updating in real time. There are the big sports like baseball and tennis, and depending on what time of day you're up and about, you can do live wagers on table tennis. Live streaming is also an available option through your account.

Banking Options at FanDuel Sportsbook
When it comes to how to bank at FanDuel, there are plenty of options to use. Especially with physical locations across the United States, you have options at your disposal.
| | | |
| --- | --- | --- |
| Credit and Debit cards | - | FanDuel accepts Visa and Mastercard. |
| ACH e-Check Bank Transfer | - | This is considered the fastest way to transfer funds to your account, going straight from your checking account. |
| Wire Transfer | - | One great thing about FanDuel's customer service team is they will credit your account for any additional fees charged by your financial institution if you deposit over $100 via wire transfer. |
| PayPal | - | The popular e-Wallet is available for use if you're looking to play. |
| PayNearMe | - | PayNearMe is a service that can be found in most 7-Eleven convenience stores, as well as CVS pharmacies. If you're not comfortable using a credit or debit card, this is your best option for a physical card. |
| Cash | - | You, of course, can use cash at all physical retail locations that FanDuel offers. |
What sports does FanDuel Sportsbook offer?
We briefly touched on it above with the live-betting options, but FanDuel does offer a wide variety of sports and leagues to bet on, from the popular to the not-so-well-known. Below is a full list of sports you can bet on with FanDuel:
| | | |
| --- | --- | --- |
| Basketball | - | NBA, WNBA, NCAAB, International, Eurobasket, Euroleague |
| Football | - | NFL, NCAAF |
| Hockey | - | NHL, NCAAH, KHL, IIHF |
| Baseball | - | MLB, Minor League |
| Soccer | - | Premier League, Bundesliga, La Liga, Serie A, World Cup, MLS |
| Golf | - | PGA Tour (LIV Golf has not been confirmed yet) |
| Mixed Martial Arts (MMA) | - | UFC |
| Rugby | - | NRL, World Cup, Super League, World Cup, Challenge Cup |
| Tennis | - | ATP and WTA tournaments, International Tennis Federation |
| Cricket | - | Indian Premier League, World Cup |
| Darts | - | Premier League, PDC World Championship, European League, Virtual Darts |
| Boxing | - | |
| Volleyball | - | |
| Formula 1 | - | |
| NASCAR | - | |
| Indycar | - | |
| Table Tennis | - | |
What bet types does FanDuel Sportsbook offer?
FanDuel does not stop short in the types of bets it offers. When you land on the home page, you see spread, moneyline and total as the top three to bet on. Beyond those, the 'more wagers' tab gives you a full-fledged arsenal to take advantage of:
| | |
| --- | --- |
| Point spreads | |
| Moneyline bets | |
| Totals | |
| Prop bets | |
| Futures bets | |
| Parlays | |
| Teasers | |
| In-play betting | |
How does FanDuel Sportsbook's odds compare to others in terms of value?
Based on our research, what we've found is that FanDuel's pricing as a whole is better than most on the market. It doesn't come as a surprise between FanDuel and DraftKings that the best pricing would come from two of the industry's heavyweights.
But what we've discovered is that FanDuel is at its best in NBA pricing and outperforms its competitors like PointsBet, for example. FanDuel doesn't possess the best pricing overall, but it's one of the best on the market.
Can you bet on all NCAA Football and all NCAA Basketball teams at FanDuel Sportsbook?
Yes, you can. But several states (Illinois, New Jersey, New York and Virginia) have prohibited wagering on games involving schools that are situated within their borders. So, if you live in any of those states, then you would be prohibited from betting on your state schools' games. Some of the impacted schools are:
| | |
| --- | --- |
| Rutgers Scarlet Knights | |
| Seton Hall Pirates | |
| Syracuse Orange | |
| St. John's Red Storm | |
| Buffalo Bulls | |
| Illinois Illini | |
| DePaul Blue Demons | |
| Northwestern Wildcats | |
| Virginia Tech Hokies | |
| Virginia Cavaliers | |
| VCU Rams | |
How to contact FanDuel Sportsbook customer support
If you need to get in touch with someone to help with your FanDuel account, there is a 24/7 service whenever you need it. Go to support.fanduel.com to contact the customer service team. We have found that it is a fast-responding group of people with immediate answers to whichever questions you have.
---
FAQs
What's the legal betting age to play at FanDuel?

Depending on the certain states that allow gambling, you only need to be 18 years old. But for the majority, you need to be at least 21 years old.

Can I use FanDuel out of state?

You can, as long as you are registered to gamble with FanDuel in that state. To do that, just register for an account in any state where it is legal to gamble.

Do I have to be in a legal state to withdraw funds from FanDuel?

No. It's not the same as using the app out of state where you need to be in that state. You can take the funds out of your account no matter where you are, but you just can't bet until you get back inside the state's borders.

Who stars in the FanDuel commercial?

FanDuel's latest commercials have starred Pro Basketball Hall of Famer and NBA on TNT analyst Charles Barkley. You've likely seen Barkley and the "voice in his head" debate on what bet is terrible or not.

How do I get a free bet at FanDuel?

All you have to do is click the banner or links on this page, sign up, deposit $10, place your first $5 bet and qualifying customers will get $150 in bonus bets

How do I find the FanDuel Sportsbook app at the App Store?

All you need to do is go on the App Store or the Google Play Store and type in "FanDuel." Download it and you'll be good to go!
FanDuel has a lot of options to get you involved in the sports betting arena. Whether you're looking to play a simple game or two on the money line, or you want to team them together in a parlay, or even wager in-game. The app is great and continues to show potential, while its design is solid and it looks good, as well.