WynnBet Pros & Cons
Pros
Top-notch promotions
Sleek mobile interface
WynnBet Sportsbook Review: What You Need to Know
The Wynn name is one of the more prominent ones in the gambling world. In the central heart of the Las Vegas Strip resides a hotel and casino with the name front and center. It's hard not to go anywhere in Las Vegas and not think of the Wynn.
But it's clear that Wynn doesn't want to settle just in the state of Nevada. It wants to expand the sportsbook brand and try to reach the same level as the likes of Caesars or MGM. As one of the newer apps on the market, WynnBet has taken those necessary steps to be at that level.
WynnBet was established in 2020. Thanks to a solid user interface and an app that runs very well, it's no surprise to see the brand take off as well as it has. Plus, WynnBet has already spread to a solid clientele as a starting point.
Without further ado, here's our review on WynnBet.
What bonuses are offered through WynnBet Sportsbook?
One thing that WynnBet does so well is keep a fresh tally of ongoing promotions and bonuses. Let's start at the top with a decent sign-up bonus. WynnBet offers a bonus where if you make a $100 wager, you will automatically be credited $50 in bet credits and $50 in casino credits that go directly to your account.
However, keep in mind that if you're taking advantage of this, the offer must be used within 10 days. So don't forget to make use of that if you want your bet credits.
On top of that, WynnBet offers ongoing promotions for new and existing users. For example, WynnBet has parlay boosters almost every day no matter the sport. It's a great way to cash in on a much better price than what's already been offered.
How to register at WynnBet Sportsbook
To register at WynnBet and start playing, you'll need just a few important (and correct) details to get going. As follows, you will need:
| Details | Required |
| --- | --- |
| Full name | |
| Email | |
| Home address | |
| Last four digits of SSN | |
After you agree to the terms and conditions and click the 'register' button, you'll be good to go once you make your initial deposit.
In what states is WynnBet Sportsbook available?
Being a new app, WynnBet is currently in the growing phase of establishing its digital footprint. Therefore, there aren't many states available to play with WynnBet. Those that are legal to have this app are:
If expansion is in the cards at some point for WynnBet, don't be surprised if some of the newer states that have legalized sports betting – Kansas and Maryland, for example – get in the fray with WynnBet.
Where is WynnBet Sportsbook legal in Canada?
At this time, WynnBet is not operational in Canada.
Website Experience of WynnBet Sportsbook
There's just something about the way a website looks that just hooks you. For the WynnBet website, that's what works for us.
The gold and blue background, first of all, is a great look. There's a hint of bronze in there, as well, and it has a great aesthetic.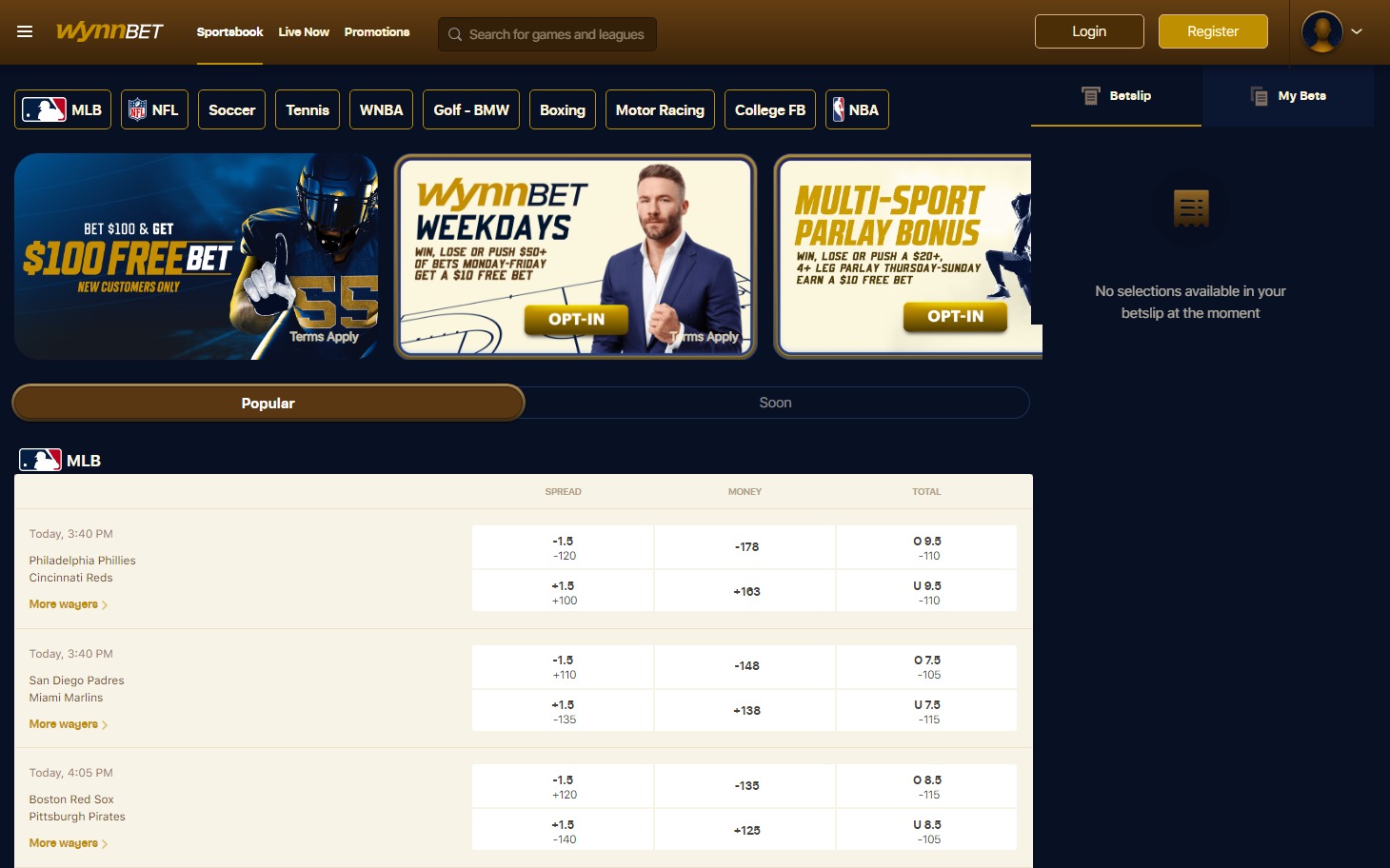 But you don't come here for just the website's design. You want to know if it actually functions well and works to the best of its capabilities. We're here to tell you that the WynnBet website does what it's supposed to, and does it very well.
You'll see early on that selecting which types of bets to play is a very easy process. The homepage has the featured games with their moneylines, over/unders and spreads easily at your disposal.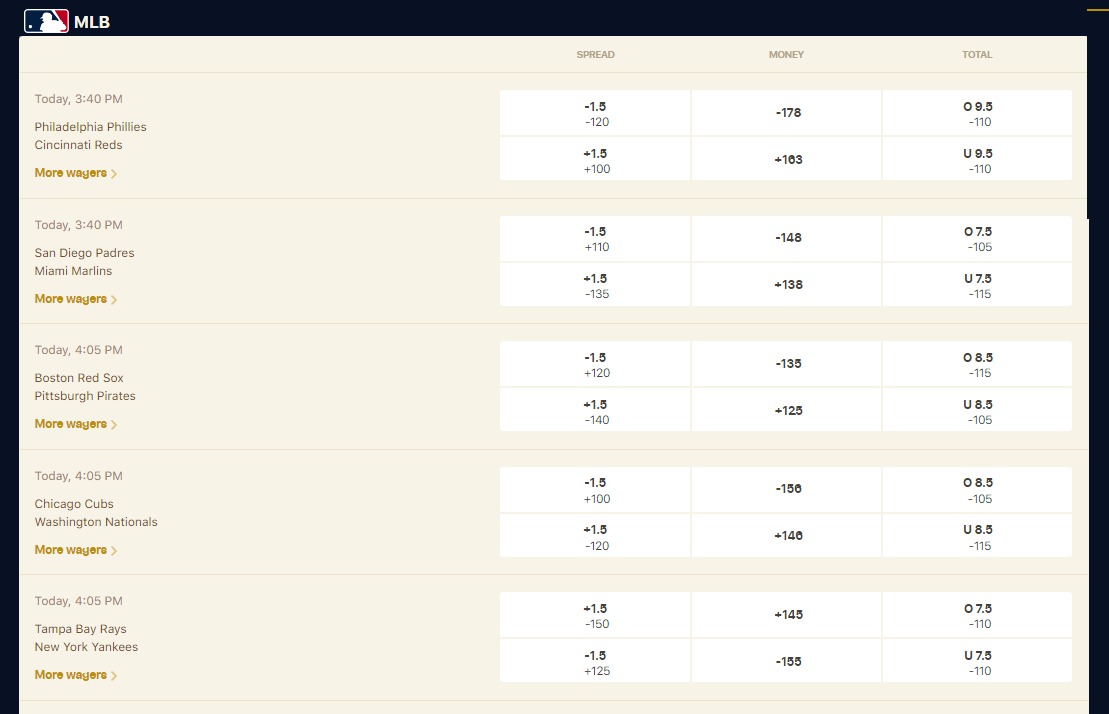 Once you click on said bets, your bet slip is also at the ready on the far right. You can adjust how much you want to wager while getting a good view of what the odds look like.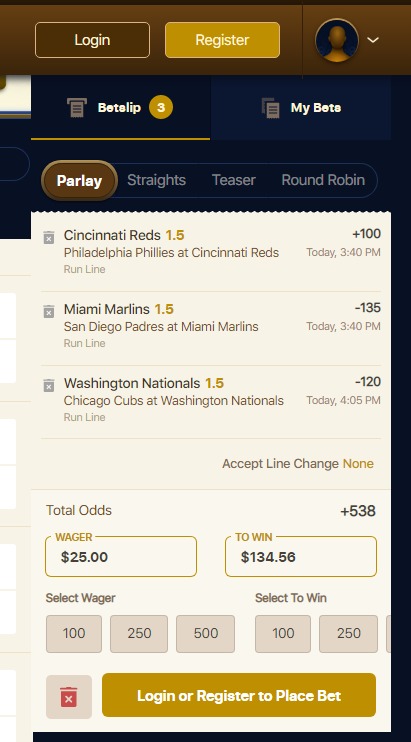 There's not much to complain as it pertains to the WynnBet website. It does a lot of things well and also has a solid look. When you have a big backing from the casino side of things, you're able to try things and improve on them over time. Given the fact we haven't noticed any problems with the website itself, continual upgrades will come when needed.
Mobile Betting App Experience of WynnBet Sportsbook
One of the strengths that WynnBet has put into its sportsbook experience is the app itself. Again, the color scheme is great and it has a great design with how the games look on the home page.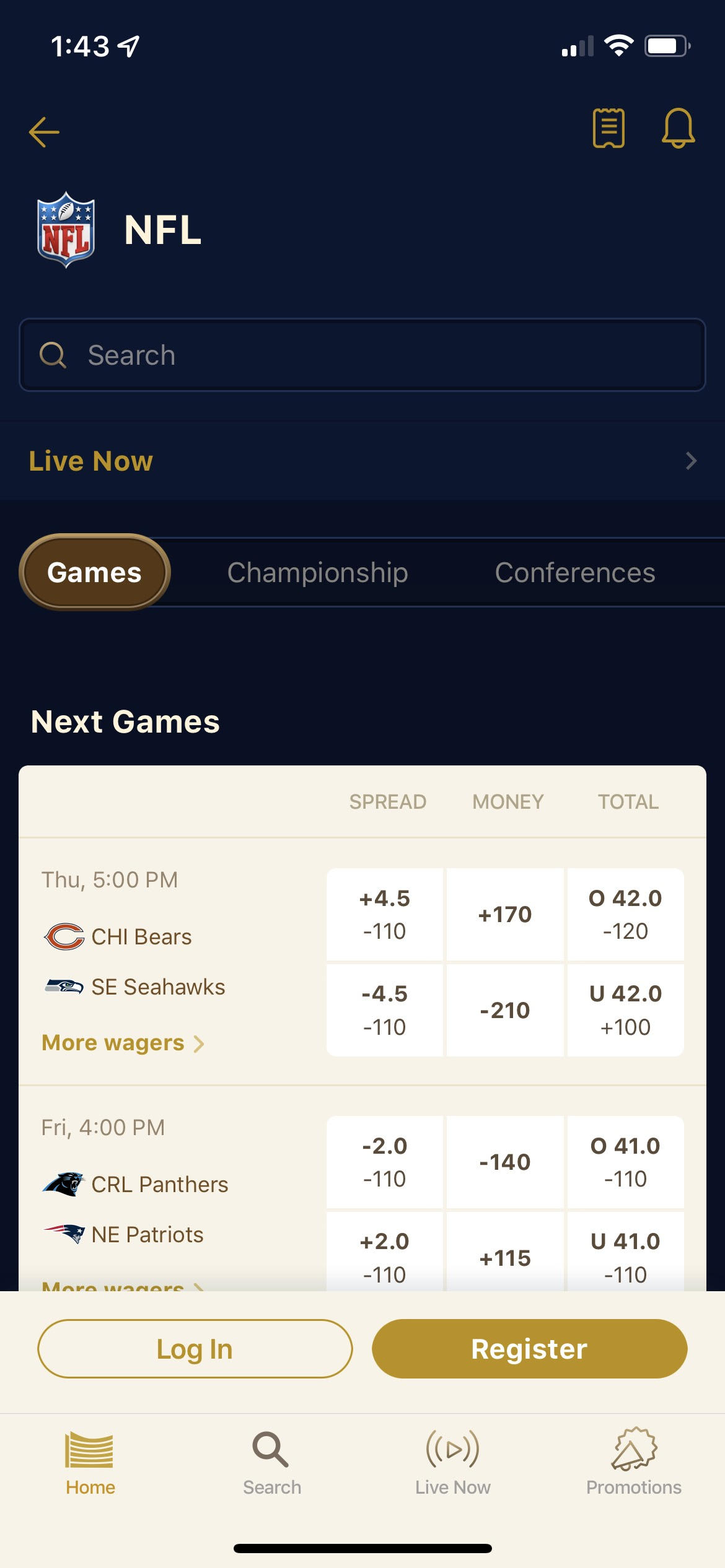 What sets a lot of these sportsbook apps apart is the game density, or how many games can be viewed on the screen at a time before scrolling. The higher the density, the better for your betting experience. WynnBet can show up to five games, which is a great number and rivals some of the top competitors on the market.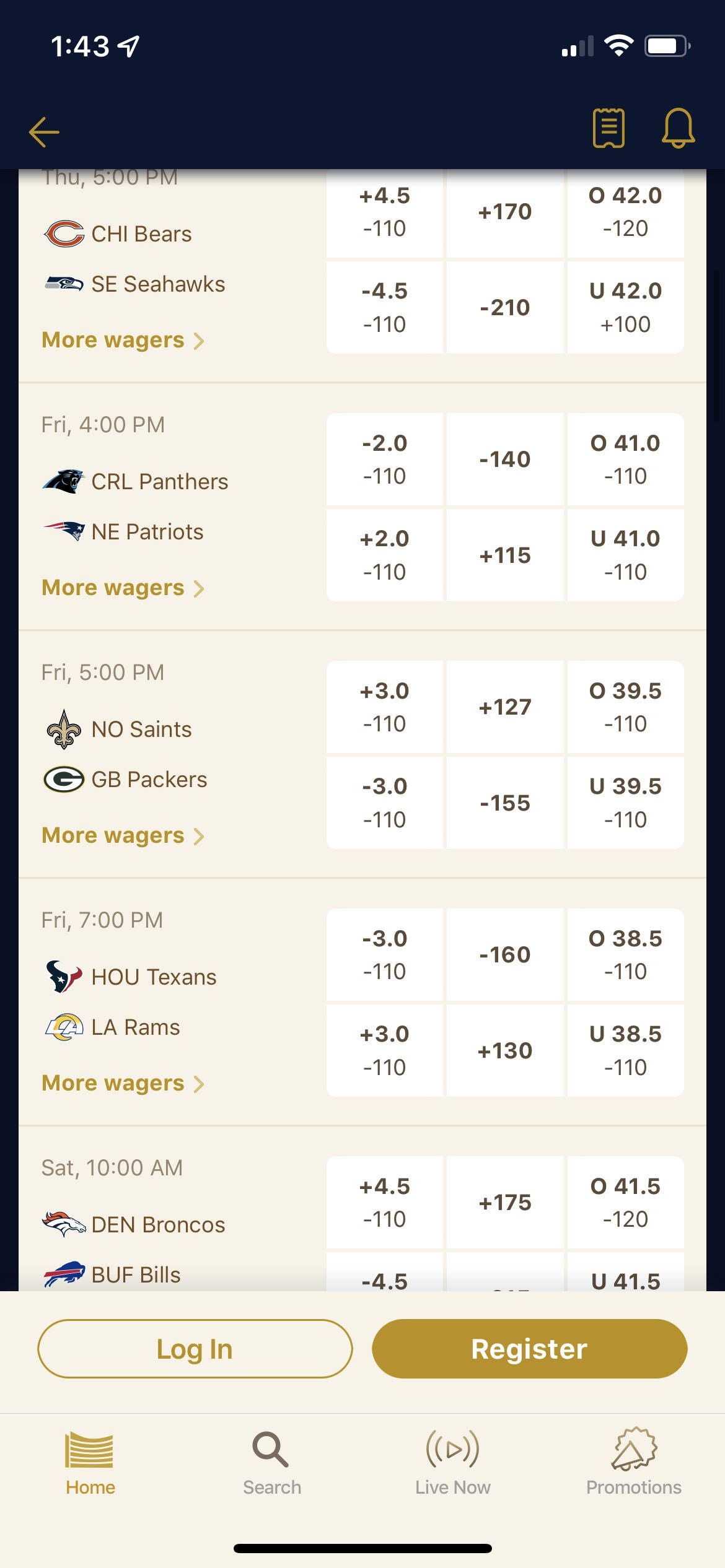 Much like the website side of things, the bet slip is easily accessible. What we like, and this also applies to the website, is how you can choose between parlay and straight bets. There is a tab for every kind of bet, depending on what you're feeling that time of day/week.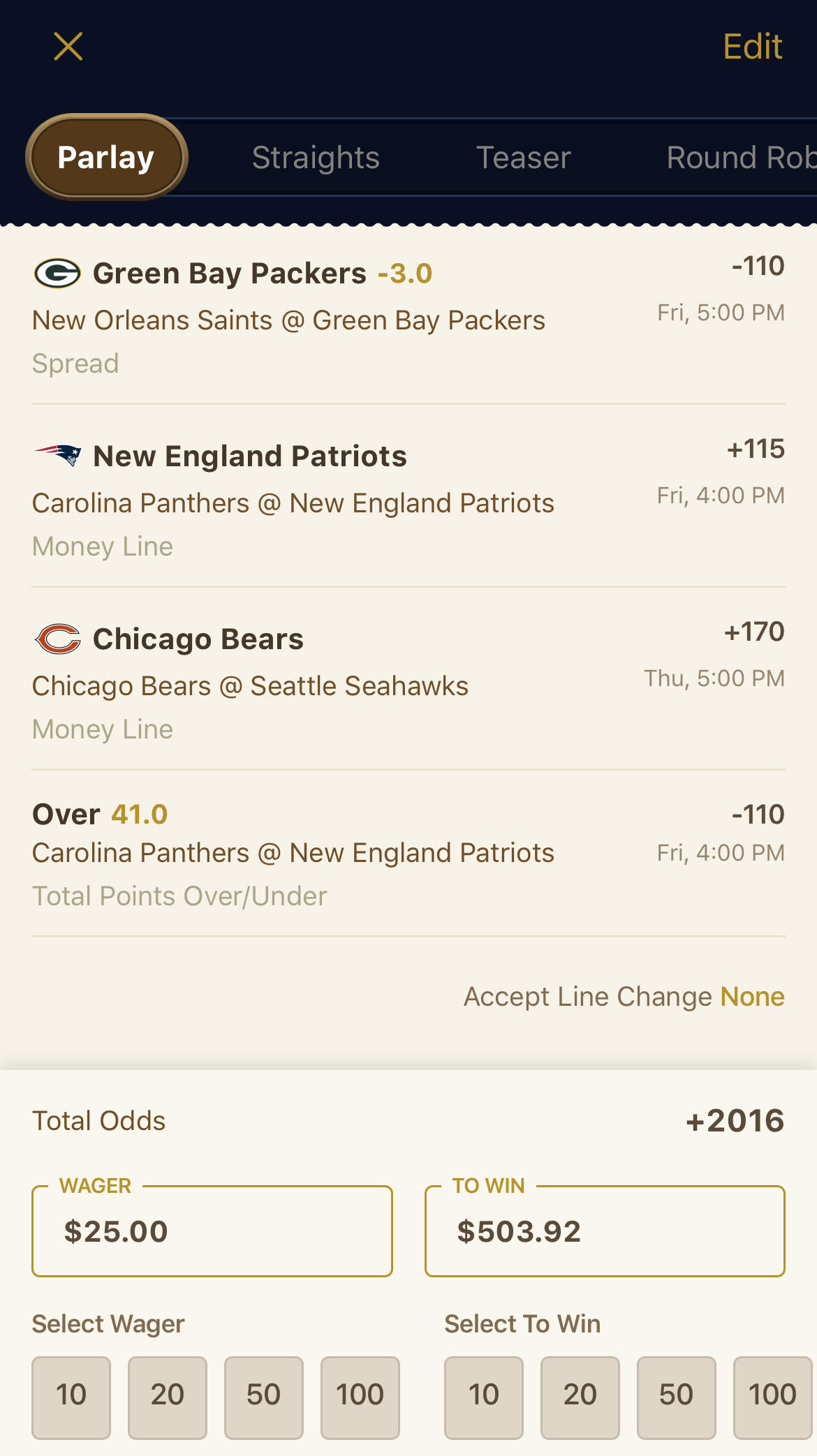 We haven't noticed any bugs with this app, and it's a smooth-running interface that's easy to use as it goes. Promotions are easily accessible, as well. Overall, this app is one of the best on the market.
Live Betting Options Offered by WynnBet Sportsbook
WynnBet does offer the likes of live in-game betting and single-game parlays. The latter is an interesting option. For example, if you're betting on the Dallas Cowboys during the game, you can bet on Ezekiel Elliott rushing for 30 yards in the first quarter, along with Dak Prescott throwing two touchdowns. The sportsbook will automatically calculate those odds for you, and it's one thing that WynnBet has shown to be very good at.
Cash-out Options at WynnBet Sportsbook
WynnBet does give you the option to cash out while a game is still in progress. If you don't feel great about the Jacksonville Jaguars cashing on a $100 bet at +200, you can always cash out at a lower price instead of losing everything.
Banking Options at WynnBet Sportsbook
There are a number of options to bank with WynnBet, ranging from online/electronic methods of payment, to the retail options at physical WynnBet locations. For example:
| | | |
| --- | --- | --- |
| PayPal (iOS Only) | - | The popular eWallet is available for use when playing at WynnBet. Of course, you'll need to have a PayPal account linked to your WynnBet account, but if you're comfortable with that option, it's accessible to you. |
| Online Banking (iOS only) | - | Using your checking account is another method to bank. You can also use this for withdrawals, as well. |
| Credit/Debit | - | Visa and MasterCard are also acceptable forms of banking when playing with WynnBet. You can't withdraw any funds, but it's a reliable way to add funds to your sportsbook account. You can't go wrong with the simple things. |
| Play+ Card | - | WynnBet has a prepaid card that makes it easy to deposit funds with the sportsbook. It's the one card that also works with Discover. Deposits are available in about 24 hours. |
| Casino cage | - | If you are in a physical sportsbook, you can visit the cage and do what you need to do there. |
The only downside with WynnBet's banking is it takes the longest amount of time from any sportsbook that we've seen. Some methods, including credit or debit card, can take 3-5 business days to hit your account. Most competitors have funds hit within 24 hours. Minimum deposit is $10 in all states except from Michigan where it is $20 for bank transfers or $50 for Paypal and Trustly deposits,
What Sports and Leagues can I bet on with WynnBet Sportsbook?
Compared to other sportsbooks, WynnBet has a long list of sports available to bet on, but the leagues are very limited. If you're looking to bet on certain less popular leagues, like the CFL or international hockey leagues, you're not going to find that here. But here is a list of the sports and leagues you can bet on:
| | | |
| --- | --- | --- |
| Football | - | NFL, NCAAF |
| Basketball | - | NBA, WNBA, NCAAB |
| Hockey | - | NHL, CFL & International Hockey |
| Boxing | - | |
| Cycling | - | |
| Cricket | - | |
| F1 | - | |
| NASCAR | - | |
| Golf – PGA | - | |
| IndyCar | - | |
| MMA – UFC | - | |
| Soccer | - | Premier League, La Liga, World Cup, Serie A, MLS |
What bet types does WynnBet Sportsbook offer?
There is not much to dislike as far as the bets that WynnBet offers. It's a comprehensive list that has mostly anything tailored toward what you want to bet on that game:
| | |
| --- | --- |
| Moneyline | |
| Spreads | |
| Totals | |
| Parlays | |
| Futures | |
| Live Betting | |
| Teasers | |
Can you bet on all NCAA Football and all NCAA Basketball teams at WynnBet Sportsbook?
Due to sports betting regulations in New York, you can bet on college athletics but it is illegal to bet on games involving in-state schools. Included among the restricted schools would be:
| | |
| --- | --- |
| Rutgers Scarlet Knights | |
| Seton Hall Pirates | |
| Syracuse Orange | |
| St. John's Red Storm | |
| Buffalo Bulls | |
| VCU Rams | |
How to contact WynnBet Sportsbook customer support
WynnBet offers a reliable 24/7 customer service help center if you ever have any questions. If you need to contact them via a telephone number, you can at 800-994-8448.
---
FAQs
What's the legal betting age to play with WynnBet? – You must be 21 years of age or older in order to bet on sports at WynnBet. None of the states with a lower legal age have licensed WynnBet at this time.

Can I use WynnBet out of state?

You can, as long as you are registered to gamble in that state. To do that, register for an account in the state that is legal to gamble. If you want to bet within New York, you have to be within state lines.

Do I have to be in a legal state to withdraw funds from WynnBet?

No. It's not the same as using the app out of state where you need to be in that state. You can take the funds out of your account no matter where you are, but you just can't bet until you get back to that desired sportsbook.

Who stars in the WynnBet commercial? – WynnBet wasted no time getting the biggest names possible to launch its campaign. Actors Ben Affleck and Melvin Gregg teamed up with basketball hall of famer Shaquille O'Neal for WynnBet's commercial.

How do I get my bet credit at WynnBet?

Click the links in the banners on this page to be directed to WynnBet, follow the instructions and as long as you meet the requirements you will be credited with your bet credit.

How do I find the WynnBet Sportsbook app at the App Store?

Type in WynnBet in the search bar in the App Store, and find your respective state's app and you'll be good to go!
WynnBet has a lot of options to get you involved in the sports betting arena. Whether you're looking to play a simple game or two on the money line, or you want to team them together in a parlay, or even wager in-game. The app is great and continues to show potential, while its design is solid and it looks good, as well.