BetRivers Pros & Cons
Pros
Quick payouts
Good customer service
Same-game parlays
Cons
Mobile app user interface
Website unresponsiveness
BetRivers Sportsbook Review: What You Need to Know
BetRivers is another example of an online sportsbook turning its footprint into physical locations across the eastern and central areas of the United States. If you're in the Pennsylvania or New York jurisdictions, you've seen the BetRivers sportsbooks. For example, the Rivers Casino — one of the more popular casinos in Philadelphia — can be found on Delaware Avenue.
The BetRivers brand has quickly become a big-time option in the sportsbook business. Backed by Rush Street Gaming from Chicago, BetRivers launched in June 2020 and has already developed in markets like Louisiana, Colorado, Arizona, and more.
It's one of the newer sportsbooks on the market but has already made a strong impression. While off to a great start in terms of establishing itself on the market, there are some aspects of the app based on our research that are going to need to be improved in order to take that next step among the national competitors.
In what states is BetRivers Sportsbook available?
In just only two years on the market, BetRivers has established markets in 11 states as of now with Maryland eventually joining the fray when it legalizes online sports betting. As follows, here are the states that it's acceptable in:
What bonuses are offered through BetRivers Sportsbook?
BetRivers Sportsbook Sign-Up Bonus
Upon signing up, BetRivers offers a bonus of up to $500 for new members if your first bet loses ($100 in NY). Once you enter your promo code BIGAL. The bonuses aren't the most well-rounded ones, but with BetRivers sign-up bonus you get a second bite of the cherry if your first bet happens to lose which is appealing.
BetRivers Sportsbook Promo Code
BIGAL
How to register at BetRivers Sportsbook
The first thing to do is to register at the state where you reside. Once you do, you will be required to put together the following:
| Details | Required |
| --- | --- |
| Create a screen name | |
| Email address | |
| Password | |
| Optional affiliate code | |
That's all you need to get started with BetRivers. It's a simple sign-up process and you'll be getting into the action soon enough.
Where is BetRivers Sportsbook legal in Canada?
BetRivers Canada launched in Ontario in April 2022. In addition to being a fast-growing option in the United States, it's also getting the opportunity to be an option in Canada.
Website Experience of BetRivers Sportsbook
The BetRivers website has a simple design for their website, which is a good place to start. The navigation system on the left side is simplistic, limited to Get Started, Sportsbook, Promotions and Rewards. One click on the Sportsbook tab takes you to every sport you can imagine.
Based on our research, we've found that the website did have some connectivity issues on some pages. Many times when we'd try to place a bet, the page would crash. One wonders if that has anything to do with the lack of space provided. It's a simple look, but it could be condensed more to provide more material on the board.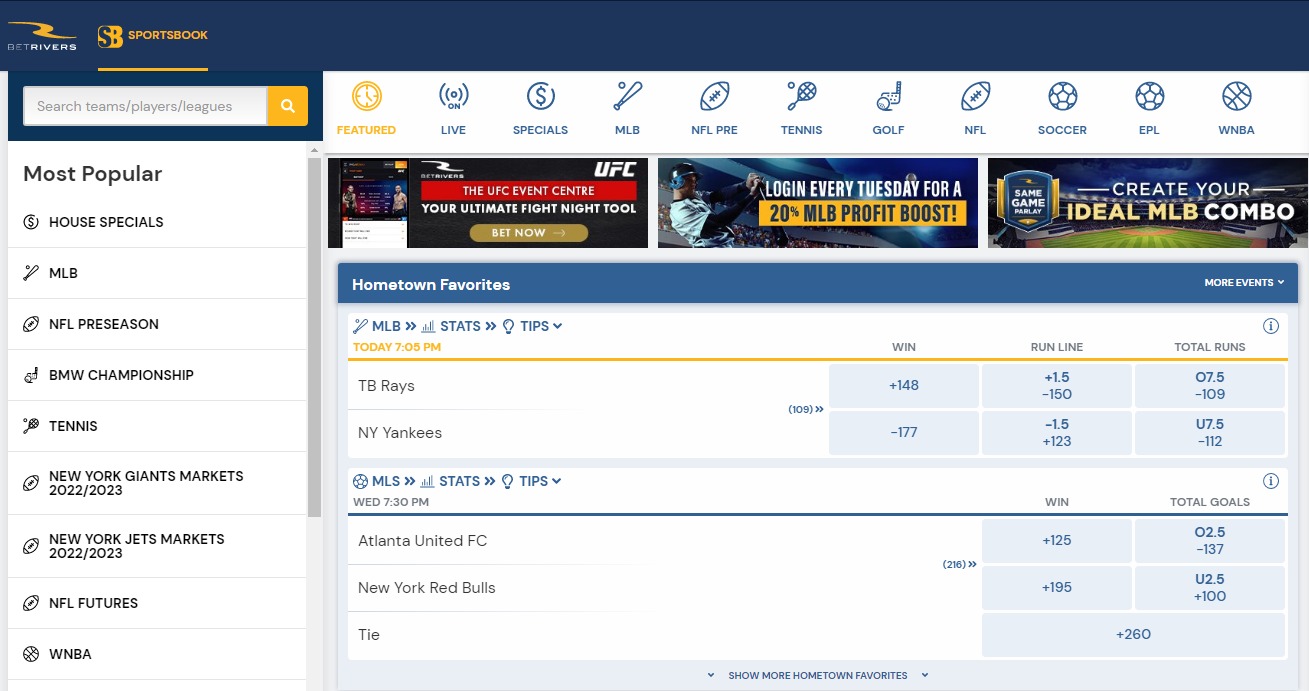 Overall, it's a standard desktop experience and it gets the job done. We'd like to chalk up these slight issues to easy fixes. While the website doesn't have the bells and whistles, it does possess enough intricacies to provide a sample base that has the building blocks.
BetRivers Sportsbook App: Mobile Betting Experience
Much like its website counterpart, the BetRivers mobile app also offers a simple design, as well as the ability to keep things on the home page. Games are offered on the home page with the easy access to your bet slip. So you can bet on the New York Yankees at -182 and take the New York Mets at +1.5 while accessing your bet slip on the bottom right button on the navigation page.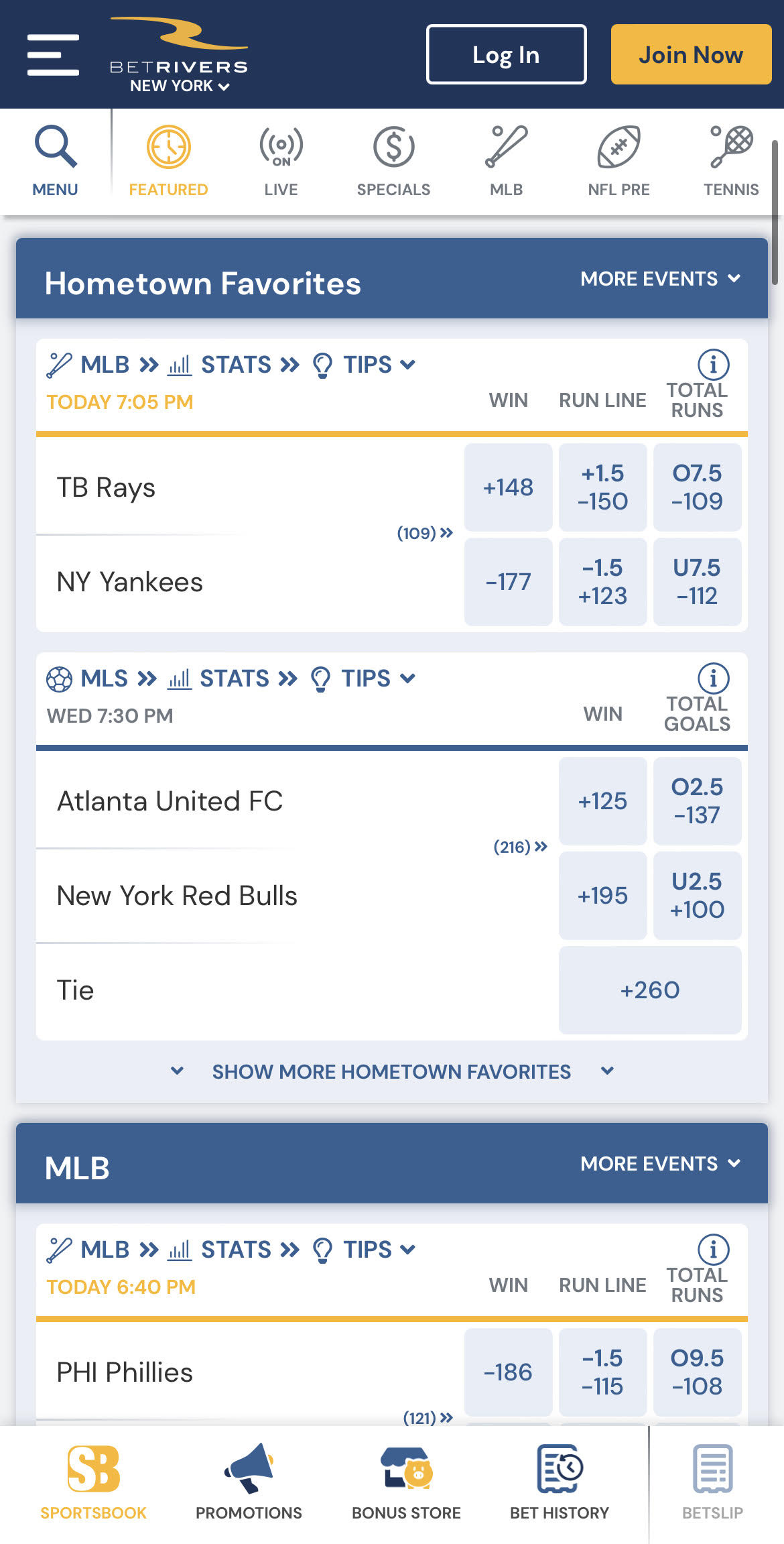 You can easily access the promotions tab, as well as your bet history on the navigation bar at the bottom.
The biggest weakness of the app is the game density, better known as the number of games you can see on the screen. As can be seen from the home page, only three games at most can be seen on the screen at a time. Compared to other books used for our research, BetRivers has one of the least favorable game densities on the market. When analyzing the best way to view an app, the best recommendation is to have more games available with less scrolling involved.
Another instance we've run into with the mobile app is there have been some glitches while trying to navigate on the home page. We haven't seen them be recurring issues in one particular area, but it has run slow when using it for extended periods of time. We have noticed a crash here and there, but it seems to be fixed upon relaunch.
As far as that goes, the user interface is the one negative for the app. Otherwise, it's a solid app for a rather new sportsbook.
Live Betting Options Offered by BetRivers Sportsbook
BetRivers might have the most comprehensive live-betting options on the market. At the very least, it has used most of its resources into making sure that stands out from the rest. BetRivers offers live streaming, which is a good comparison to the competition, as well as play-by-play updates as if you were getting an up-to-date recap from any of the top sports mobile apps.
Another aspect that we found interesting when it comes to BetRivers is the "Pre-Game Statistics." This, basically, gives you everything you need to know prior to placing your bet.
Banking Options at BetRivers Sportsbook
BetRivers banking options may not be as robust as other sportsbooks, but it still offers many of the most popular transaction methods to get money into your account.
| | | |
| --- | --- | --- |
| Credit or debit card | - | BetRivers accepts all forms of Visa, Mastercard and Discover card. We don't believe American Express is an option at this time. |
| ACH e-Check Bank Transfer | - | One of the quicker ways to transfer funds is directly from the your own checking account. |
BetRivers Sportsbook Deposits
| | | |
| --- | --- | --- |
| PayNearMe | - | If you've been to any 7-Eleven or CVS pharmacy, you've likely seen PayNearMe available to you. Go buy a Slurpee then get your money ready to play at BetRivers. |
BetRivers Sportsbook Withdrawals
| | | |
| --- | --- | --- |
| BetRivers Play+ Prepaid Card | - | The prepaid card is a great way to utilize funds if you're not wanting to use a banking institution. |
| Wire Transfer | - | BetRivers also accepts wire transfers. |
| PayPal | - | The well-known e-Wallet is also accepted at BetRivers. If you're looking for a third-party system to use that's not a banking institution, PayPal has always been a trustworthy way to go. |
| Cash | - | Cash deposits are accepted in-person at Rivers casinos. |
Does BetRivers Sportsbook have Same Game Parlays?
You can, indeed, take advantage of same-game parlays on the BetRivers app, and it might be the best we've seen on the market. For those who aren't aware what a same game parlay is, say the Dallas Cowboys are playing the New York Giants. You can bet on Ezekiel Elliot rushing for over 98.5 yards, and Saquon Barkley running for under 75. You can parlay those two together and get a line of, for example, +350.
BetRivers' interface makes it very simple to create a same-game parlay, which might be the best among the sportsbook options.
What Sports and Leagues can I bet on with BetRivers Sportsbook?
One of the benefits to BetRivers is there is a lot of unique sports to bet on. There are the traditional basketball, football and hockey options, but have you ever considered betting on handball? BetRivers gives you that option. Here are the complete list of sports and leagues you can bet on:
| | | |
| --- | --- | --- |
| Basketball | - | NBA, WNBA, NCAAB, BIG3, Puerto Rico Leagues |
| Football | - | NFL, NCAAF, CFL |
| Hockey | - | NHL, KHL, IIHF |
| Baseball | - | MLB |
| Soccer | - | Premier League, Bundesliga, La Liga, Serie A, World Cup, MLS |
| Golf | - | PGA Tour, LIV Golf |
| Rugby (Aussie Rules, Rugby Union, European Leagues) | - | |
| Tennis | - | ATP and WTA tournaments, International Tennis Federation |
| Cricket | - | Indian Premier League |
| Darts | - | Premier League |
| Formula 1 | - | |
| NASCAR | - | |
| Handball (World championships) | - | |
| Premier League | - | |
What bet types does BetRivers Sportsbook offer?
BetRivers covers its bases when regarding the types of bets offered. The home page offers the moneyline, run line and total, but there are plenty more to choose from
| | |
| --- | --- |
| Point spreads | |
| Moneyline | |
| Totals | |
| Prop bets | |
| Futures bets | |
| Quarter bets | |
| Half bets | |
| Parlays | |
| In-play betting | |
Can you bet on all NCAA Football and all NCAA Basketball teams at BetRivers Sportsbook?
Yes you can, but it comes with a twist. If you live in Illinois, New Jersey, New York or Virginia, you can't bet on college games involving teams that are in those states. So, for example, if you live in New Jersey, you can't place a bet on a Rutgers game or a Seton Hall game. If you're in New York, you can't bet on games involving St. John's, Buffalo or Syracuse.
| | |
| --- | --- |
| Rutgers Scarlet Knights | |
| Seton Hall Pirates | |
| Syracuse Orange | |
| St. John's Red Storm | |
| Buffalo Bulls | |
| Illinois Illini | |
| DePaul Blue Demons | |
| Northwestern Wildcats | |
| Virginia Tech Hokies | |
| Virginia Cavaliers | |
| VCU Rams | |
How to contact BetRivers Sportsbook customer support
If there's one thing that BetRivers has excelled at, it's the customer service portion. There is a well-ranged help center on the betting app that provides answers to most questions. In the event nothing shows up, there is also a live-chat option that's available from 9:30 a.m. to 2 a.m. EST. There's a person available at all times to help.
---
FAQs
What's the legal betting age to bet on sports at BetRivers?

You must be 21 years old in order to download and use the app.

Can I use BetRivers out of state?

You are, indeed, allowed to deposit, withdraw and check lines when you're out of the state and using the BetRivers app. However, be aware that you can't place bets from outside of your designated state.

Do I have to be in a legal state to withdraw funds from BetRivers?

Thanks to the ability to withdraw and deposit money to your account, you don't need to be in a legal state in order to withdraw funds.

Does BetRivers Sportsbook offer cashout on bets?

Yes it does, as a feature called Buy Out.

How do I find the BetRivers Sportsbook app at the App Store?

Type in ' BetRivers' in the search bar in the App Store!
BetRivers has a lot of options to get you involved in the sports betting arena. Whether you're looking to play a simple game or two on the money line, or you want to team them together in a parlay, or even wager in-game. The app is great and continues to show potential, while its design is solid and it looks good, as well.