Bet365 Pros & Cons
Pros
Solid bonuses
Bet Boosts
Extensive list of sports to bet on
Solid app
Bet365 sportsbook Review: What You Need to Know
Here's what we can definitively say about bet365 and what this could mean for the future: It's a good starting point. What exactly do we mean by that? If you were to line this up next to, say, Caesars or BetMGM, the chances of you picking bet365 over the two powerhouses is slim to none. If you were to take one look at the bet365 app right now, you'd see the bare bones are there, but it's not going to exactly move the needle upon first glance.
But if you sit in front of your computer or go on the mobile app for a little bit, you can see the potential that bet365 has. The app is very responsive, the odds are fairly decent, and it possesses a solid customer service team.
Overall, if bet365 were to expand in some capacity over the next few years, it would be a good thing for the sports betting industry.
In what states is bet365 Sportsbook available?
As of now, based on our research, Bet365 is available in New Jersey and Colorado, while it might be a well-known book, its limited licensure in the United States means the appeal might not quite be there right away.
What bonuses are offered through bet365 Sportsbook?
bet365 sign-up bonus
For those new customers in the New Jersey or Colorado area, bet365 has some promos for you that will get you started. First is the New Customer Offer in which you bet $1 and get $200 in bonus bets. All you have to do to get started is make a deposit of $10 or more. Your credit balance then can be used in place instead of cash, which seems like a great start.
bet365 sign up code
When you click on the promos page on the bet365 website, there are other boosts that are available to you. There are bet boosts, a multi-sport parlay bonus – bet on any boxing or MMA match, along with football, basketball, hockey and baseball – as well as a tennis parlay bonus where you can earn up to 70 percent more on those bets.
The bonuses section is primarily limited, but for a sportsbook that's licensed in minimal locations, this is a good starting point for those especially in New Jersey. The hope is that if bet365 expands, it will offer more promos and bonuses like this. For now, this is a good start.
How to register at bet365 Sportsbook
When you click on the join button at the top right corner of the bet365 website, you will be taken to a 'Open Account' page that will ask you to provide all the essential details needed in order to make you able to place your bets.
| Details | Required |
| --- | --- |
| Email | |
| Name | |
| Birth Date | |
| Create User ID | |
| Create Secure Password | |
| Last four digits of your SSN | |
| Phone Number | |
| Home Address | |
"As with most sportsbooks, this is all the information you need in order to qualify to place bets at bet365. It's a simple process and should take you no more than 10 minutes to finish.
Where is bet365 Sportsbook legal in Canada?
bet365 has arrived in Ontario as of April 2022 thanks to the passage of Bill C-218 for single-event sports betting in Canada. If you are in the Ontario province, you will be able to legally use bet365 at your discretion. There are no physical retail locations at this time, but you can take full advantage of the bet365 mobile app.
Website Experience of Bet365 Sportsbook
Given the origin of bet365, it's much easier to access this book in Canada. It's available in every single Canadian province. So if you're in Quebec, Manitoba, Alberta, British Columbia or Ontario, you're in a position to try bet365 to see what the hype is about.
Where did bet365 Sportsbook originate from?
Bet365 was founded in 2000 by Denise Coates, the daughter of Peter Coates (the chairman of soccer club Stoke City F.C.). As of 2021, her earnings reached £463 million, making her the highest-paid CEO in all of Britain. She worked at a bookmaking firm while at the University of Sheffield and eventually became the managing director in the mid '90s. Shortly after, she purchased the bet365 domain and the online betting site launched in 2001.
Its headquarters are based in Stoke-on-Trent, England, which is found in Staffordshire and has a population of under 300,000 people. In short, this year, bet365 turned 22 years old and is now legally old enough to gamble. Irony is a funny thing sometimes. They also just locked in a deal to be the official betting operator of the PGA Tour for the next three years. Expect heavy advertising during PGA events over the next little bit.
Website Experience of bet365 Sportsbook
Sometimes simple is good. The bet365 website is simple, and sometimes that's all that's needed. It's not going to have the bells and whistles of, say, a Caesars or BetMGM. Because it operates in just one state, there might not be a need to go that all-out for a website so long as it does what it's supposed to do – provide the games, provide the odds, allow you to bet, and not seemingly have any trouble.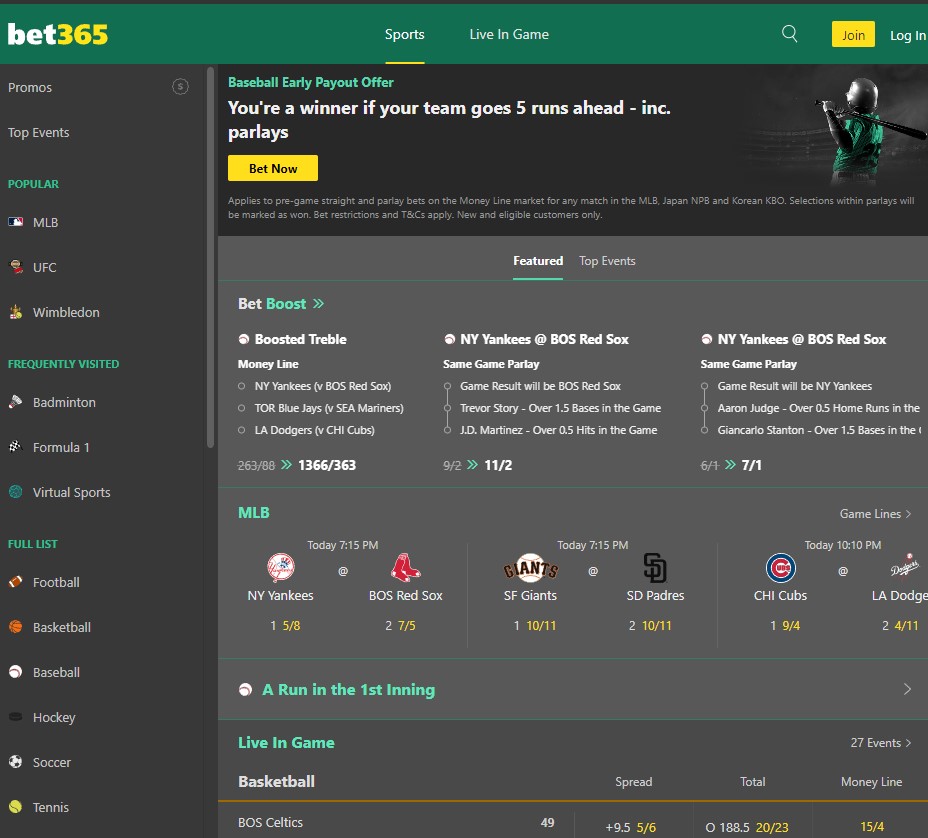 As you can see below, you can get your eyes on a lot of games, and the tabs on the left are at a reasonable size to get everything at a fair view. Bet on games, go to the next sports, wash, rinse and repeat.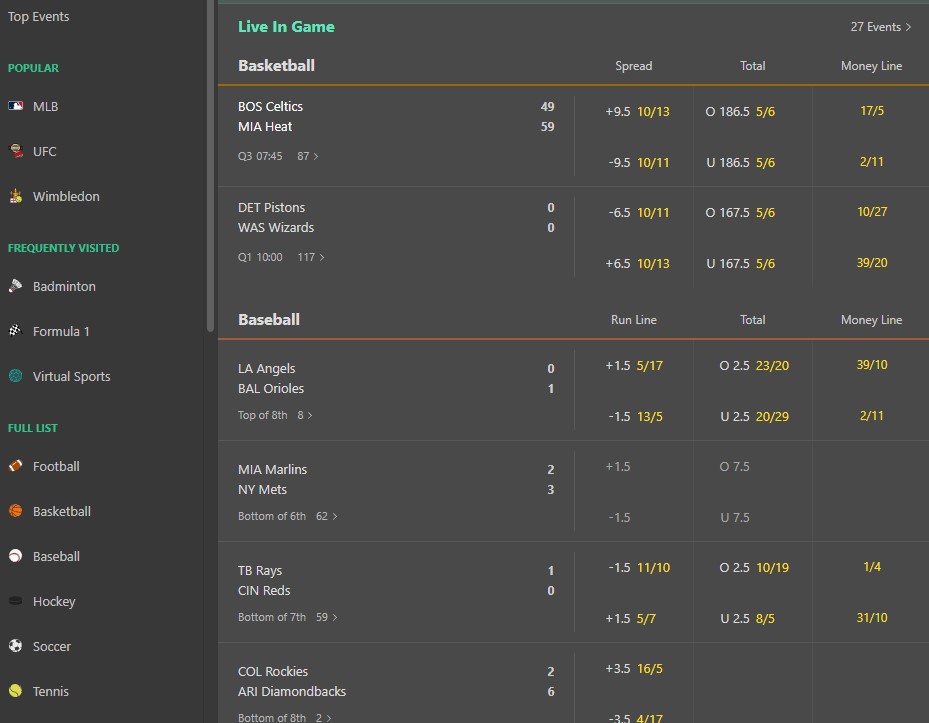 Again, not the prettiest website, but sometimes it doesn't have to be. Sometimes, we just need things to do the job it's supposed to do. The bet365 website does just that.
Mobile Betting App Experience of bet365 Sportsbook
One of the top ways in how to determine if a sportsbook mobile app is at its peak is its Game Density. If you've never heard of Game Density, it's self explanatory. Basically, the more games you can view on one screen, the better. But it goes beyond just how many games you put on the small screen in your hand. It has to be able to read well, the spacing has to be decent, as well. The spacing also has to be well-designed, to make it easy to read. If you're looking at Week 1 games in the NFL, some apps may fit five games on a screen, while others might only have three-and-a-half. It varies. The one that has the five games has the better "game density" and provides the better experience. When it comes to bet365, there's no doubt that it has one of the best-designed apps on the market.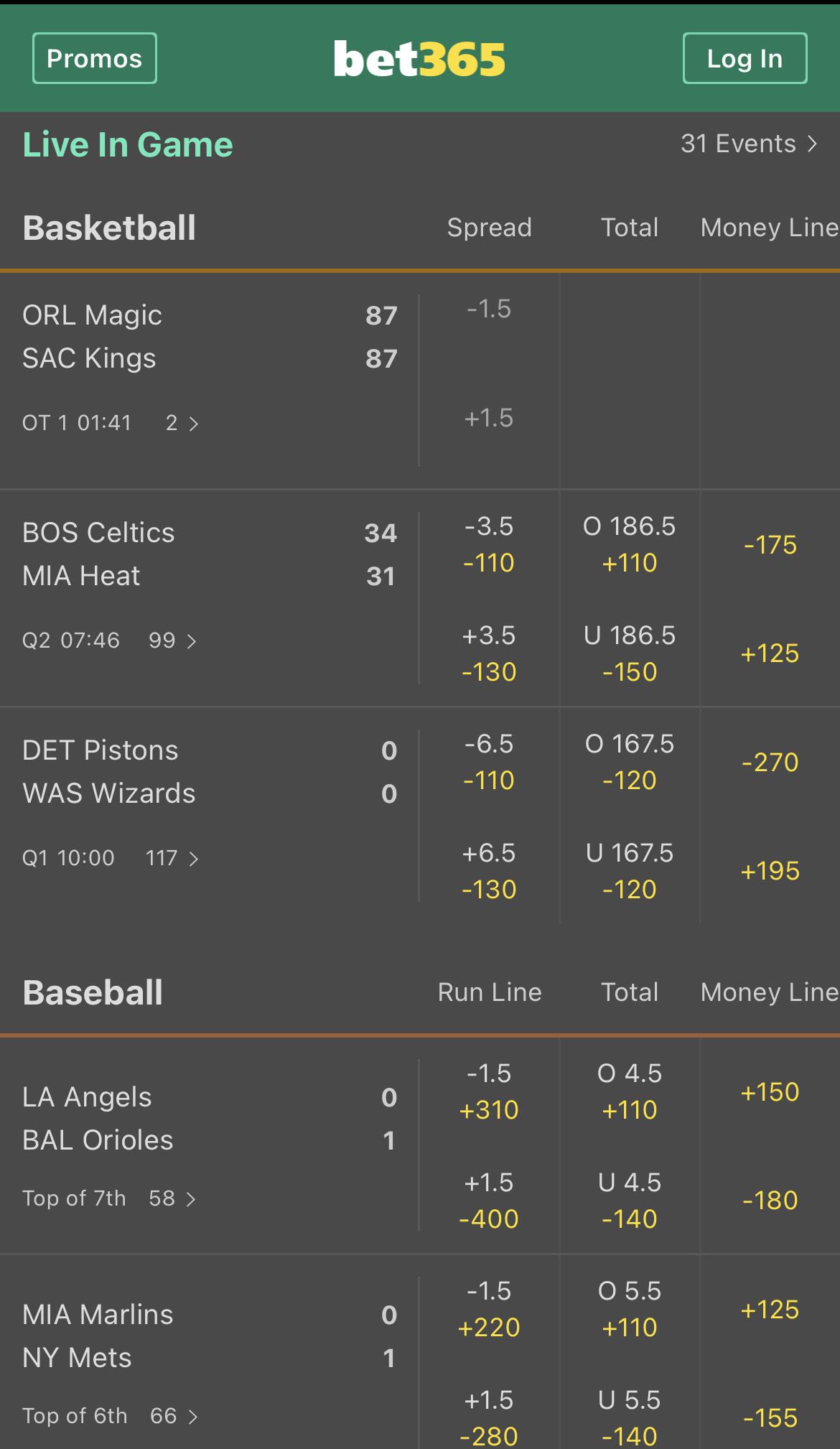 Much like the website, you get the same type of simplicity and ease on the eyes with the way the bet365 mobile app looks. The navigation to each sport is quick and fluid. The response time is quick and we've hardly seen any crashes as it pertains to the usage.
There's also a wide range of futures bets you can play, especially in the basketball realm.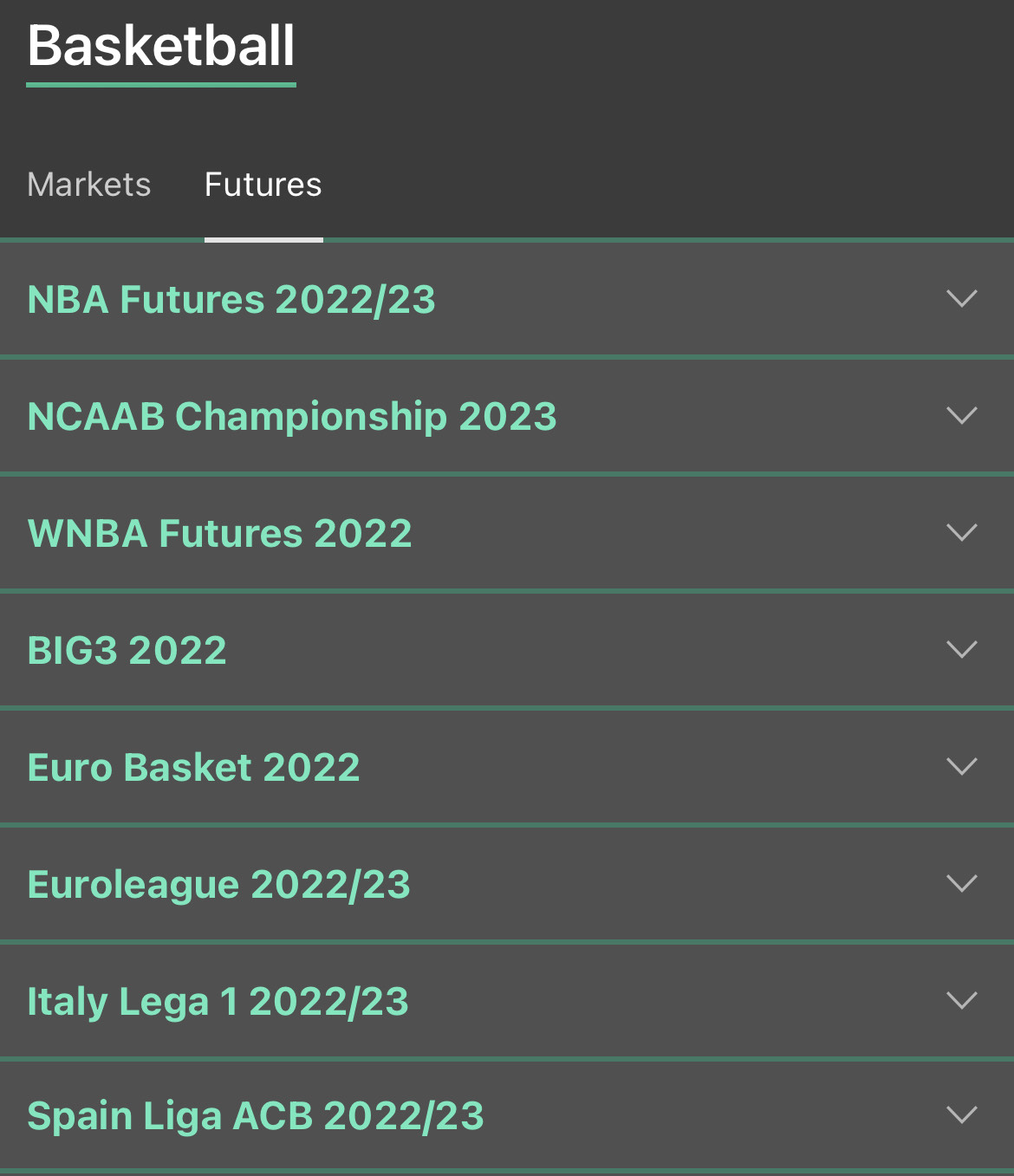 We'll be discussing those other betting options in the sports world below, but with this app, there's also no ads that will slow production down. It's a basic layout with a grey-based background, but the bet365 mobile app might be one of the more responsive ones on the market.
Live Betting Options offered by bet365 Sportsbook
Given the fact that bet365 offers a wide variety of sports across the world, the live betting options on the bet365 app are deep. Not only can you bet on live moneyline options in-game, but bet365 has also put an emphasis on same game parlays. The same game parlay function on this app might be the most fluid we've seen. Selecting the options for the parlay is quick and, much like the overall aspects of the app, easily accessible.
One interesting thing about the bet365 same-game parlay is you get the price before you add the bet, which is something you hardly see (if at all) from any other book. There's also a wide variety of prop bets, which makes the depth of the app that much more appealing.
Cash-out Options at bet365 Sportsbook
Bet365 does offer cash out options to allow you to get out of a bet after you make it. For those not aware, if you are in the first quarter of a game and your team isn't covering the spread at that time, you could cash out for a fractioned cost, most of the time around 30 cents on the dollar.
Banking Options at bet365 Sportsbook
The world we currently live in relies on technology and convenience, and bet365 is no exception given the ways to put money in your account. With the minimum deposit of $10 through these various ways, you can get started playing right away. Those banking options and payment methods include:
| | | |
| --- | --- | --- |
| Credit or debit card | - | The good news is bet365 does accept the likes of Visa, Mastercard and Maestro (another form of Mastercard). |
| ACH Transfer | - | You can transfer directly from your checking account. |
| PayNearMe | - | You can find a PayNearMe at your local 7-Eleven, Family Dollar or CVS location. There's a PayNearMe code you can enter after making the cash deposit, and you'll be good to go. |
| PayPal | - | If you've dealt with money in some capacity, you know what PayPal is. The popular online wallet allows bettors a secure way to send money without providing their banking information. |
| Skrill | - | Similar to PayPal, it's another secure payment system in which your bank account info isn't used. |
| Inside the casino | - | Cash is, indeed, an option. You can make deposits and withdrawals, but of course, it's only available at the Hard Rock Hotel & Casino in Atlantic City, New Jersey. |
What sports does bet365 Sportsbook offer?
We talked earlier about how bet365, due to its international market, has the biggest array of sports to bet on that we've seen. The international market does help with this, and as you can see, no matter what sport you want to bet on, you are covered at bet365.
For example, I had no idea you could bet on the BIG3 basketball league. That is incredible. And the table tennis aspect has me also intrigued.
| | | |
| --- | --- | --- |
| Basketball | - | NBA, WNBA, NCAAB, BIG3, Brazil LBF Women, New Zealand NBL, Mexico LMBPF Women, Virtual Basketball |
| Football | - | NFL, NCAAF, CFL, USFL, Virtual Football |
| Hockey | - | NHL, KHL, Swedish Hockey League |
| Baseball | - | MLB, Minor League |
| Soccer | - | Premier League, Bundesliga, La Liga, Serie A, World Cup, MLS |
| Golf | - | PGA Tour (LIV Golf has not been confirmed yet) |
| Mixed Martial Arts (MMA) | - | UFC |
| Rugby League | - | (NRL, World Cup, Super League, World Cup, Challenge Cup) |
| Tennis | - | ATP and WTA tournaments, International Tennis Federation |
| Cricket | - | Indian Premier League, World Cup, Virtual Cricket |
| Darts | - | Premier League, PDC World Championship, European League, Virtual Darts |
| Esports | - | |
| Formula 1 | - | |
| Lacrosse – NLL | - | |
| LNASCAR | - | |
| Table Tennis | - | WTT |
| Volleyball | - | |
What bet types does bet365 Sportsbook offer?
There's nothing flashy about the bet options that bet365 offers. You have your traditional moneyline, spread, over/under, and more. They also have a comprehensive futures section, which is very good to have. Among the entire list of bets available, there are:
| | |
| --- | --- |
| Spreads | |
| Moneyline bets | |
| Over/under bets | |
| Prop bets | |
| Futures bets | |
| Parlays | |
| Teasers | |
| In-play betting | |
How does bet365 Sportsbook odds compare to others in terms of value?
According to our research, we've found that bet365 prices best out of an overall average than any of the other major sportsbooks. It's a value of consistency with bet365, meaning it might not have the best overall average pricing in individual sports, but the prices average well enough to where it has a better median compared to the likes of the big-named books. If you're able to try it out, you won't be disappointed.
Can you bet on all NCAA Football and all NCAA Basketball teams at bet365 Sportsbook?
So, yes. You can bet on college football and basketball with bet365. But if you live in New Jersey, you know where this is going. You can bet on college football, just not on games involving the teams that are situated within New Jersey. Any other state? Yes, if you want to bet on UNLV Football, you absolutely could do that, although we'd highly recommend not doing that for the sake of hanging on to your money. As a refresher, the teams whose games you can't bet on in New Jersey:
| | |
| --- | --- |
| Rutgers Scarlet Knights | |
| Seton Hall Pirates | |
| Princeton Tigers | |
| Rider Broncs | |
| Fairleigh Dickinson Knights | |
| Saint Peter's Peacocks (shoutout to the amazing Cinderella) | |
| Monmouth Hawks | |
How to contact bet365 Sportsbook customer support
One thing that bet365 has over most of its competitors is the customer service portion. Some books will just have a support system that has a number of frequently asked questions with the hope that you can find your answer. With bet365, it's a last resort. Notwithstanding that, the FAQ section has a comprehensive list of questions, such as technical problems if a game you're wanting to bet isn't loading, and also how to make a deposit. If you have gone through the entire FAQ and nothing is there to answer your query, there is a 24/7 live chat function, an email capability, and a phone number.
If you need to talk to someone on the phone, call 1-833-754-8200.
Email: supportusa-eng@customerservices365.com
Both ways are mostly responsive and get back to you in an orderly fashion, we've found.
---
FAQs
What's the legal betting age to play at bet365?

The legal gambling age to partake in sports betting at bet365 is 21 years or above.

Can I use bet365 out of state?

No. If you are signed up through bet365 in New Jersey, you can only use it in the Garden State. You can't go outside state lines to use the app, in accordance with regulations issued by the state of New Jersey.

Do I have to be in a legal state to withdraw funds from bet365?

With New Jersey being the lone state this can be used in, yes you must be in a legal state to withdraw.

Who stars in the bet365 commercial?

If you remember the critically acclaimed show "Breaking Bad," you will see that the one starring in the TV spot for bet365 is none other than Aaron Paul. Yes, good old Jesse Pinkman is the one who stars in the commercial. And it almost has that same intensity as "Breaking Bad" because, of course, it would.

How do I get my Bonus Bets at bet365?

First, sign up. Then, make your deposit of $10 or more to claim the offer. Once you place a bet of $1 from your deposited funds, the $200 in bonus bets will be added to your "Bonus Bets" balance. To use them, make sure to use the "Use Bonus Bets" option in the bet slip.

How do I find the bet365 Sportsbook app at the App Store?

Type in bet365 in the search bar in the App Store!
Bet365 has a lot of options to get you involved in the sports betting arena. Whether you're looking to play a simple game or two on the money line, or you want to team them together in a parlay, or even wager in-game. The app is great and continues to show potential, while its design is solid and it looks good, as well.